Indonet launches into high-end printing with Fujifilm Revoria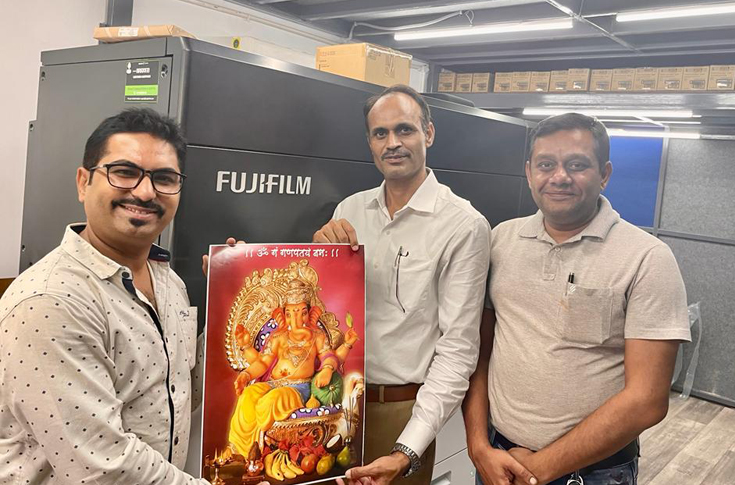 Delhi-based Indomagic, a subsidiary of Indonet Technologies, has added a Fujifilm Revoria PC1120 to its production unit.
"Since our creation, Indonet Technologies has successfully established itself for quality products and complete solutions, from design to finish. We were looking for a solution that would help us better meet the needs of customers who demand innovative solutions. With the capacity of the 10 colors of this new press and the in-house design team, we are now able to do much more creativity and innovation," said Manish Sachdeva, owner of Indonet Technologies.
Founded in 2000, Indonet is a leading printing solution provider for books, documents, letterhead, presentations, certificates, posters, flyers, leaflets, wedding albums , wedding cards, etc.
The Fujifilm Revoria PC 1120 press is equipped with 10 colors and six stations. At a time, two special colors can be used in combination of overlay and underlay. In addition to CMYK toner, it comes with gold, silver, clear, white, pink, and textured toners. With a combination of gold and silver, countless shades of metal can be obtained, which helps conquer the market. Changing specialized toner is also effortless and time-saving.
"We are in the business of photo printing and commercial printing; our business requires the use of a variety of materials ranging from tear-proof paper to luster paper to plastic films and each material has a specific property. When printing plastic-based materials, static charge can cause sheets to stick together when stacking. We were really impressed when we saw the effectiveness of Revoria's anti-static module. This solves our problems and helps to stack the printed sheets without sticking to each other," added Sachdeva.
The machine can print on 52-400gsm paper and can handle SRA3 sheets and banners up to 1200mm. This is an ideal machine for printers who process different types of jobs.
"We worked closely with Indonet to test various materials, make creative use of special colors and meet the growing demand for premium products. At Insight, we are guided by the core value of providing solutions, trust and commitment. We are happy to add Indonet Technologies to our Revoria family. Vikas Dagar, Managing Director of Fujifilm Revoria at Insight Print Communications, said.

/news/indonet-foray-into-premium-printing-with-fujifilm-revoria-56768
Indonet launches into high-end printing with Fujifilm Revoria

https://www.printweek.in/Utils/ImageResizer.ashx?n=http://img.haymarketsac.in/printweek/8cc991a0-68b6-4f7d-9b4a-f65fd43e8785.jpg