5 things I know about…Getting a mortgage in a rising rate environment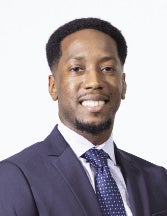 By Darryl Caffee Jr.
If you were like many in central Massachusetts looking for a home at the start of the pandemic, you may be one of the countless house hunters who have been discouraged by the market. Don't despair because things are changing. The good news is that the house inventory is improving, which means your chances of finding a house have improved. The bad news is that mortgage rates are rising. Here are some things to know when getting a mortgage in a rising rate environment like this.
Darryl Caffee Jr. is senior vice president, director of retail lending and head of community reinvestment for Webster Five Cents Savings Bank in Auburn. Contact him at [email protected]
5) People matter. Real estate today is and has always been a people business. You must have a team of professionals who will guide you through the home buying process. Your real estate agent, loan officer and attorney will be your trusted advisors, not just for this transaction, but likely for years to come.
4) The bidding wars are down. That doesn't mean your dream home is suddenly available at a discount. But it may mean you're less likely to face the intense competition that many potential buyers have faced over the past couple of years.
3) This is not the housing crisis of 2008. Don't let the housing crisis of 2008 cause concern. Underwriting standards were tightened, resulting in some of the most creditworthy borrowers in mortgage history. This means that if your lender has approved you for a mortgage, they have assessed your ability to repay and are confident in your creditworthiness.
2) Mortgages are like going to a convenience store. There are many products to choose from. Product features include fixed rates, adjustable rates, state agency programs, federal programs, grant programs, equity lines, equity loans, and more. Learn about product variations and ask your trusted advisors to guide you to the options best suited to your needs and financial situation.
1) You will probably refinance your loan. Before 2020, the average mortgage lasted about seven years. Although this number has increased, various circumstances may cause you to refinance your loan, including finding a lower rate, family changes, debt consolidation and tuition fees.