A start-up builds a small "inflatable" concrete house in 2 hours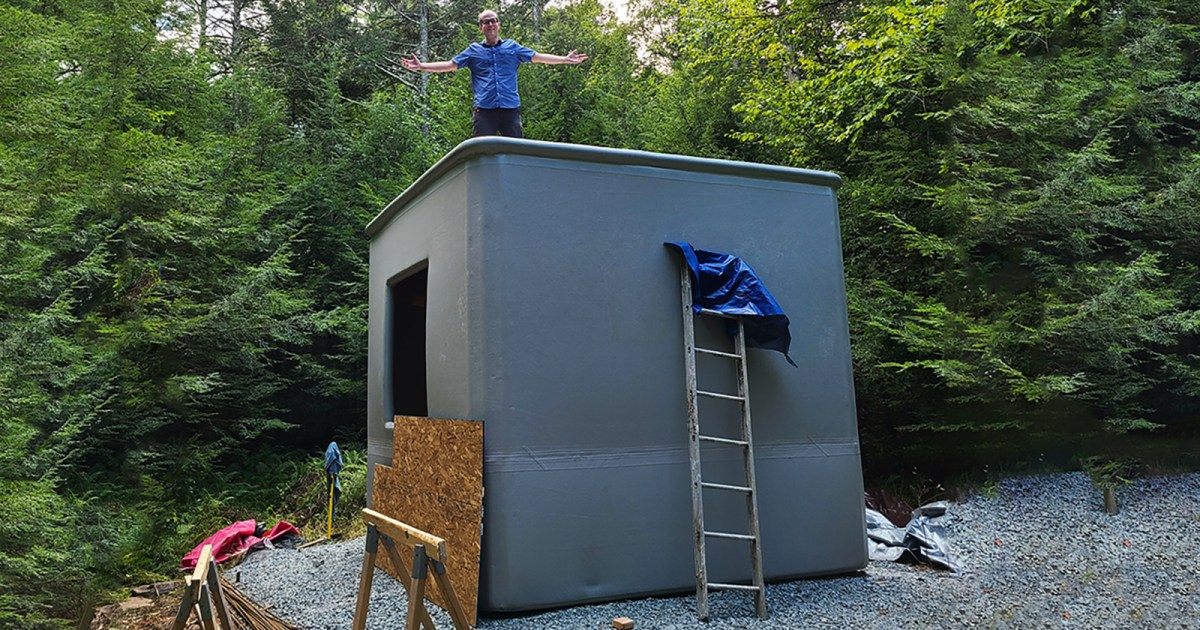 A New York startup is building tiny houses quickly and cheaply — by building shapes of inflatable fabric the size and shape of houses, then pumping them with concrete.
The challenge: The United States is in the midst of a massive housing shortage, and one of the main drivers of this is the decline in the construction of small "starter" homes – only about 7% of single-family homes built in 2019 had less than 1,400 square feet, down from 40% in the 1980s.
Smaller homes that are being built, meanwhile, are selling for prices that put them beyond the reach of the typical first-time home buyer.
Only 7% of single-family homes built in 2019 were starter size.
Inflatable house: The New York start-up Automatic Construction has developed a new technique, called Inflatable Flexible Factory Formwork (IFFF), to quickly and inexpensively build small concrete houses.
It starts with the delivery of a "shape" of a PVC canvas house to the construction site. It looks like a deflated air mattress at first, but when filled with air it takes the shape of a small house, with walls and a roof.
A second form is also inflated inside the first. Its purpose is to provide support in the next step, when the wet cement is pumped out while the air is drawn out of it.
The concrete cures for a few days before the supporting formwork is deflated so that it can be used again later. The PVC house formwork is left in place – it helps reduce energy costs by providing an airtight and watertight barrier around the concrete house.
"For our 100-square-foot and 200-square-foot prototypes, inflation took seven to 10 minutes with air," CEO Alex Bell told New Atlas. "Then the concrete pump filled them in 1.5 hours. Including labor, our prototypes cost only $20 per square foot. It's significantly cheaper than anything else.
Cold water : The concrete house is not complete at this point – windows, doors, drywall, plumbing, HVAC, exterior siding and more still need to be installed, adding significantly to the final cost of the Automatic Construction houses.
Rebar reinforcements also need to be added, but Bell told New Atlas the company is working to have them pre-installed in the form before shipping, which would reduce some of the labor costs. 'work.
Look forward: Automatic Construction is building a concrete house for a client in New York and has signed contracts with two others, according to Bell. He also signed a deal with a "large commercial contractor" for a structure.
It's unclear how big they will be, but the prototypes the company has built so far are better described as tiny homes than starter homes – they may be big enough for one person, but they're not. likely to accommodate a family.
Automatic Construction, however, is testing a 650-square-foot, two-story concrete house design and says its technique could be extended to larger structures — including commercial buildings, urban skyscrapers, or even homes on Mars.
Even if these out-of-this-world applications never materialize, the company's concrete tiny houses have the potential to help solve the housing shortage, along with other alternative construction methods, such as 3D printing. and folding houses.
We would love to hear from you! If you have a comment about this article or have a tip for a future Freethink story, please email us at [email protected].