A Kalamazoo Realtor's Little Princess Helps Put Kids and First-time Buyers on Their Way to Their Castles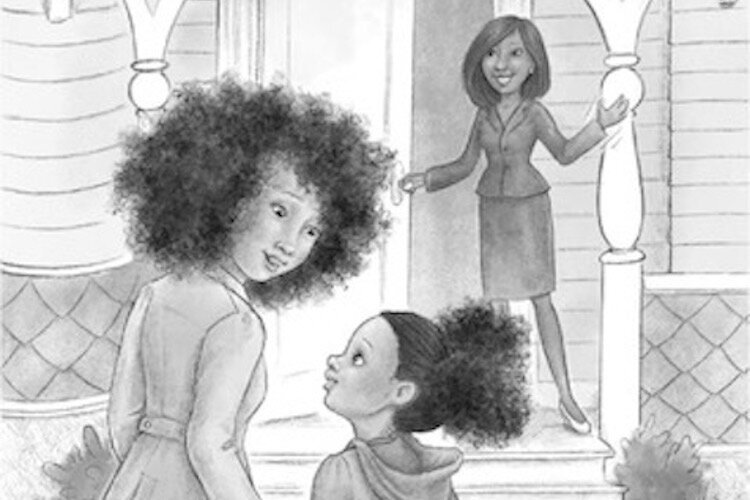 A Way Home—Housing Solutions: This story is part of Southwest Michigan's Second Wave series on solutions to homelessness and ways to increase affordable housing. It is made possible by a coalition of funders including the City of Kalamazoo, Kalamazoo County, ENNA Foundation, Kalamazoo County Land Bank and LISC.
People don't dream big enough, says Twala Lockett-Jones. They lose something that comes naturally to children.
"When they are very young, young people believe in fairy tales and believe that they can do this and do that and be this and be that," explains the Kalamazoo real estate agent and broker. "Then the older they get, it's kind of like the real thing, and we as adults sort of beat them."
But she says, "I don't want them to lose that imagination, that wonder, that feeling of being able to do anything.
Twala Lockett-Jones holds up a copy of her book, Princess Mackie Buys a House.This includes the dream of getting rich or at least becoming financially stable. For most Americans, that starts with owning a home, a primary investment that typically appreciates in value and can be sold for a profit. Homeowners can borrow against the equity in their property and pass it on to their children or grandchildren as an asset. But many people don't know where to start.
To help change that, Lockett-Jones has written a book that provides the steps needed to buy a home in very simple terms, including a glossary that explains things like equity, closing costs, an agreement to purchase and generational wealth. He also suggests working with community organizations to learn the language and skills needed to get a mortgage and maintain a home after purchase.
"The reason I wrote the book," she says, "is because I wanted to find a way to educate people at a younger age, especially people of color, about accession. to home ownership and the importance of home ownership."
Lockett-Jones says she decided to write the book after a conversation she had with a parent in 2019 who insisted that education was the key to change. And she decided there was great value in educating people when they were young. His book is therefore aimed at children from third to fifth grade.
The story follows a little girl named Mackenzie, whose late father had nicknamed her Princess Mackie. She aspires to live in her own "castle" but comes from a family that has always rented apartments. So she can't paint her walls the way she wants, put stars on her ceiling, or have the princess bedroom she really wants. She also cannot have the puppy she wants and her mother repeatedly warns her not to make noise. It might bother their owner, who lives downstairs.
Princess Mackie draws pictures of things she would like in her "castle" in this illustration from Princess Mackie Buys a House."She eventually got fed up and said, 'Well, Mom, if you call me princess, I'm supposed to have my own castle,'" Lockett-Jones said. "'All the princesses in my storybooks have their own castle where they can do whatever they want.' And that sets them on the road to home ownership.
The book attempts to highlight the importance of creating generational wealth through real estate ownership.
Many African Americans have been hampered by red lines, predatory policies, and discriminatory practices. And Lockett-Jones says statistics show that while most white Americans buy their first homes in their early 30s, most African Americans buy their first homes in their late 40s. This puts African Americans, on average, about 15 to 17 years behind in terms of building up home equity and building family wealth.
"If you're 17 years old that you've built equity in a home, you can usually move on to your next house and have a really, really good down payment for it," says Lockett-Jones.
But if you're buying your first house at 48 and looking to move on to a bigger and better next house, you're at a point where your kids aren't home anymore and you're looking to downsize.
This new book by Kalamazoo Realtor Twala Lockett-Jones provides the steps necessary for first-time buyers to buy a home.Lockett-Jones is the owner of the Lockett-Jones Real Estate Group at 1201 S. Westnedge Ave. She is passionate about working with first time home buyers and also works with real estate investors. A 1987 graduate of Loy Norrix High School, she attended Kalamazoo Valley Community College and Davenport University. She and her husband Kenneth, a licensed contractor who holds a real estate license, have three adult children.
His book, Princess Mackie buys a house, is a quick read illustrated by Melissa Bailey of Michigan and formatted by Sean Hollins of Kalamazoo. Funded in part by a grant from the Greater Kalamazoo Arts Council, the 106-page book was published by Fortitude Graphic Design & Printing in conjunction with LLC Season Press and is available for sale on Amazon.com for $11.95.
"What I'm finding is that there are adults who buy the book and say they're going to give it to their niece or the little kids in the neighborhood," Lockett-Jones says. "But they read it and say, 'Oh my God, I'm going to keep this book to myself because it really teaches you how to buy a house. ""
She says she, #1, wants young people to continue dreaming big, saying, "Whatever their dream is, they can achieve it."
#2 learns to sacrifice some of their desires to achieve their goals. As a child, that might be learning not to buy candy so they can buy a toy they really want. As an adult, it can be learning to wait until you buy a fancy car so you can buy a house.
#3 learns to be confident. She says they should realize that they may not know all the necessary steps, but they can keep plugging in until they reach their goals.
Lockett-Jones is set to sign copies of her book and be the featured presenter at the Epic Center at Kalamazoo Mall during the city's Art Hop in July. Due to the 4th of July holiday, the monthly Art Hop is scheduled to take place on the second Friday of July. Nine-year-old Kaliyah Jackson from Kalamazoo will play Princess Mackie in it. The character, whose age is not specified in the book, takes her name from one of Lockett-Jones' nieces.
Lockett-Jones is also working with a consultant and an architect to develop affordable housing in the 900 block of West North Street. She envisions a mixed-use project with commercial space on the ground floor and perhaps eight apartments on the second floor. She hopes to start construction within a year.
The project will reclaim space vacated after a June 2020 fire tore through three large homes on this block. Each of them had been transformed into apartments. They included a vacant 12-unit building, a large three-unit house, and a large house owned by Lockett-Jones at Woodward Avenue and North Street that had been converted over the years into eight apartments.
Lockett-Jones, a Kalamazoo native who has been involved in real estate sales for 26 years, says that while buying a home can take time and many people don't know where to start, she says, " I think the main thing that keeps us from buying a home is not believing that we actually can. This is where the education part comes in because it sounds like a pipe dream for many people to own a house. Generationally, they can be tenants. Their mother may be a tenant. Their grandparents were tenants. So they've never seen it and they don't know where to start.
Like Prince Mackie, she wants everyone to have their own castle.