California Clean Energy Research Program funds $1 billion in innovative projects and attracts $7.8 billion in private investment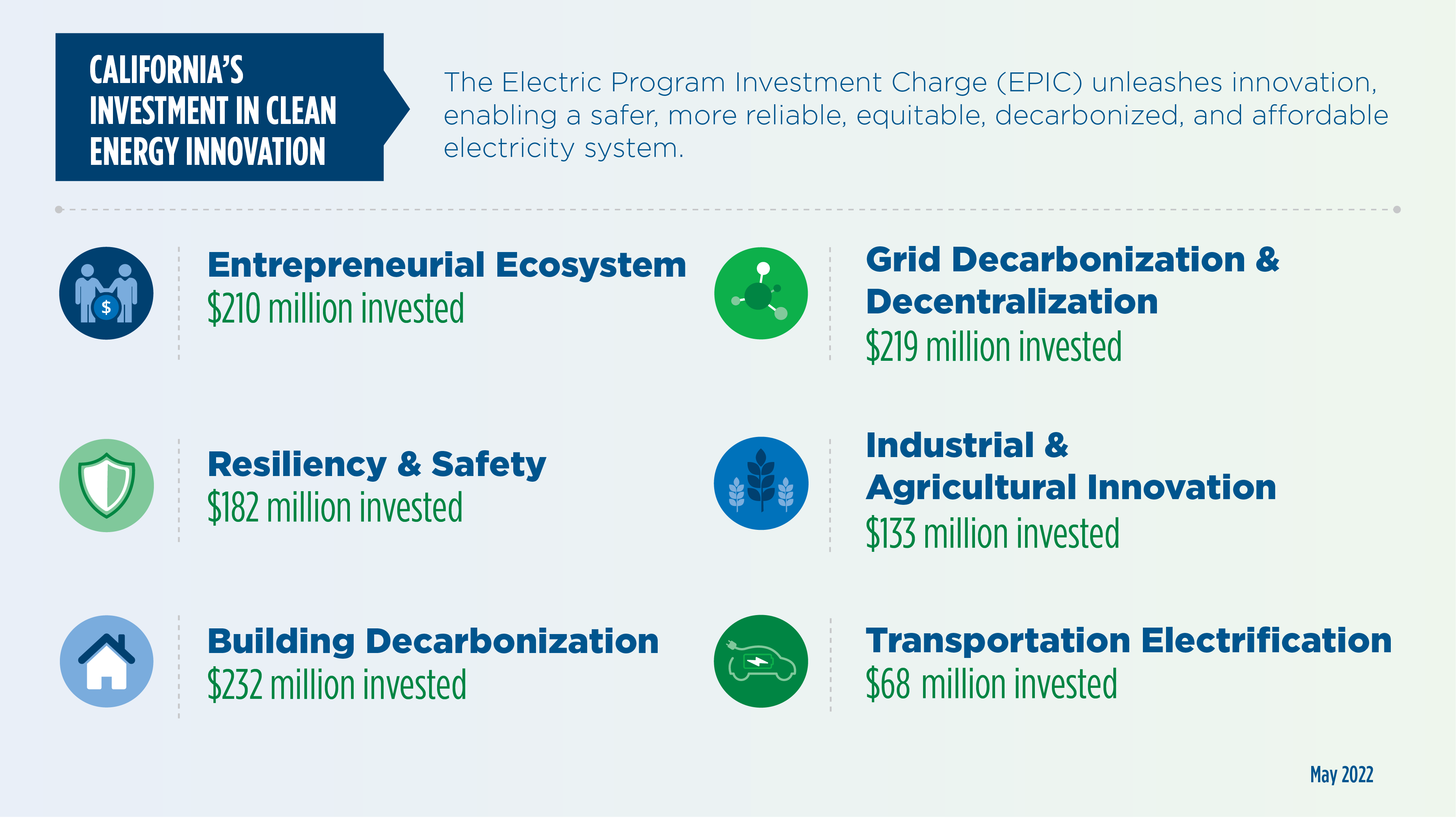 For immediate release: May 19, 2022
Sacramento – As California's premier public benefit clean energy research and development program enters its 10th year and tops $1 billion in investment, a new report shows how it helps the state meet the climate challenge while attracting investment and creating jobs.
The California Energy Commission Electrical program investment costs (EPIC) invests more than $130 million annually in projects that advance the environmental sustainability, reliability and affordability of the electrical system.
Since 2012, EPIC has supported more than 430 projects with $1 billion in funding, resulting in $7.8 billion in private investments raised by winners ranging from large universities to small start-ups.
"The EPIC program represents the best of California entrepreneurial spirit by bringing clean energy innovation from the lab to the market," said CEC Chairman David Hochschild. "These technologies and tools are helping the state address our most pressing climate and energy challenge while benefiting electric ratepayers."
Governor Gavin Newsom Budget proposal 2022-2023 builds on EPIC's success by including $1 billion in grants to California-headquartered companies. Grants would be used to develop and commercialize new technological breakthroughs to help the state meet its climate and clean energy goals.
Since its inception, the EPIC program has tackled a variety of issues to decarbonize the power system and address the devastating effects of climate change. For example, more than $232 million has been approved for projects that reduce greenhouse gas (GHG) emissions while improving the affordability, health and comfort of homes and businesses.
Another example is network resilience and security. Over the past few years, millions of Californians have been affected by extreme heat and wildfires. Since 2012, more than $182 million has been awarded to advance secure and resilient energy systems like the California Redwood Coast-Humboldt County Airport Microgrid in McKinleyville. This system uses solar panels to generate electricity and batteries to store energy, allowing it to operate independently of the larger power grid and provide emergency services even during power outages.
The EPIC program invests in innovation in just about every sector of the state, including its burgeoning offshore wind industry, the electrification of its transportation system, the development of long-lasting batteries and the advancement of clean energy entrepreneurs.
The program also supports farmers in the state. California is the country's breadbasket, but dwindling freshwater supplies are increasingly straining farmers, who must contend with rising water and energy costs. EPIC funding helped San Mateo-based AgMonitor develop software that helps farmers better track and manage water use, reduce energy costs and improve incomes.
Other EPIC-funded innovations outlined in the new report include:
Transparent photovoltaic window covering that can harness solar energy from glass surfaces to generate electricity, while remaining visibly indistinguishable from traditional windows.

Panels that use radiative cooling, rejecting heat from rooftops beyond the atmosphere and into the cold expanses of space, turning the sky into a renewable resource for cooling.

3D concrete printing manufacturing technology that enables on-site construction of ultra-tall wind turbine towers at low cost.

A lithium-metal battery system that increases energy density by up to 48%, as well as exceptional power output and life, which increases the range and capacity of electric vehicles and aircraft .
To ensure that all Californians benefit from the state's energy transformation, more than two-thirds of EPIC technology demonstration and deployment funds have been invested in projects with sites in low-income and disadvantaged communities and Native American tribes of California.
Although the EPIC program is ten years old, its impact will be felt long into the future. In 2020, it was renewed by the California Public Utilities Commission, securing another decade of support for entrepreneurs and innovators shaping the state's energy future.
Learn more about the EPIC program and the projects it supports by consulting the EPIC 2021 Highlights.
# # #
About the California Energy Commission
The California Energy Commission is leading the state toward a 100% clean energy future. He has seven core responsibilities: developing renewable energies, transforming transport, increasing energy efficiency, investing in energy innovation, advancing the State's energy policy, certifying thermal power plants and preparing for energy emergencies.