EMC2 plans to help manufacturers go high tech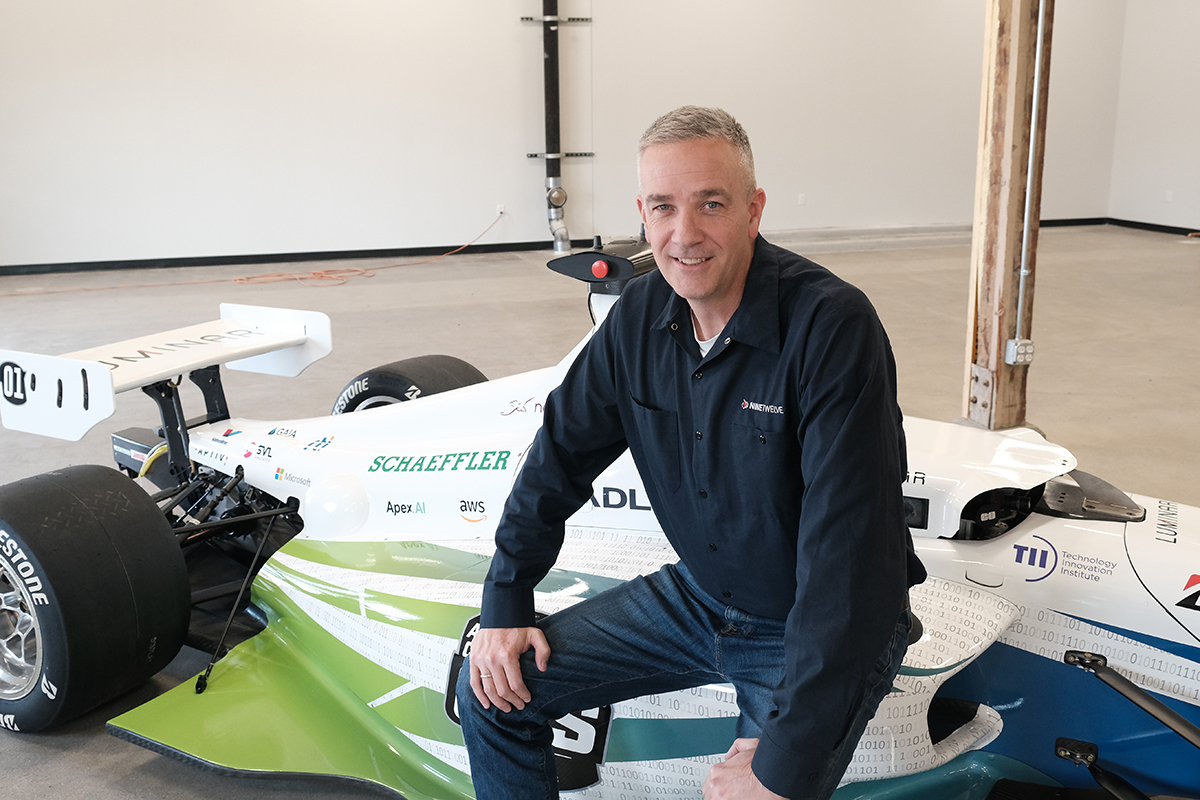 A new facility in the 16 Tech Innovation District – the Emerging Manufacturing Collaboration Center – aims to help Hoosier manufacturers stay competitive in the age of advanced technology.
Called EMC2 for short, the 61,250 square foot facility is at 1250 Indiana Ave., near the southern entrance to the developing Innovation District which is directly across Fall Creek from IUPUI. Part collaboration space, part learning lab, and part development and test center, EMC2 is designed to help small and midsize manufacturers discover and adopt new technologies.
Two major international companies are already on board, as well as local partners.
3D printing equipment manufacturer GE Additive, a division of GE Aviation, has signed on as anchor tenant and will bring one of its state-of-the-art binder jet printers, which can produce 3D printed metal parts.
Amazon Web Services, or AWS, is also involved in the installation through its participation in Energy INsights. Launching this month at EMC2, Energy INsights shows manufacturers how they can use artificial intelligence and data analytics to reduce their energy costs.
"We will not be just a museum. We will be a place where you actively come and do things," said EMC2 Director Kent Anderson. Anderson is also chief operating officer at the Indianapolis-based NineTwelve Institute, which helps industry, government and academia collaborate on cutting-edge technology initiatives.
Installation is particularly crucial, say its proponents, as manufacturing moves towards what is commonly referred to as Industry 4.0: the use of advanced technologies such as 3D printing, data analysis and machine learning to reduce costs and improve operations.
And a successful transition to Industry 4.0 matters a lot in Indiana, where manufacturing accounts for 26% of the state's gross product and 16% of jobs.
"Manufacturing is critical to our state's economy, and this facility is designed to help highlight technologies that are disrupting manufacturing," said Dave Roberts, chief innovation officer at Indiana Economic Development Corp.
IEDC provided a $3 million challenge grant to help kick-start the $7.5 million installation, and EMC2 is funding the remaining $4.5 million. Once the facility is fully operational, it will generate revenue from a combination of leases and membership fees from those who wish to access the facility as a type of coworking space.
To fill
To date, five tenants have signed with EMC2: GE Additive; a Massachusetts-based battery company called 24M Technologies Inc.; the Indiana 5G Zone, which will transition to EMC2 from its current downtown location; IEDC; and the Indy Standalone Challenge.
The first tenants have already started to move in, although the installation is not quite complete – a large room at the back of the building, for example, has not yet been subdivided into tenant spaces for the Indy Autonomous Challenge and 24M, and GE Additive has yet to move into its 3D printing hardware.
A grand opening is planned for the end of May.
Once the five existing tenants are operational, Anderson said, they will occupy nearly half of the building's rental space. EMC2 is working to recruit other tenants to fill the remainder.
The facility includes offices, classrooms, and hands-on space for prototyping, testing, engineering, and research/development.
Anderson said he envisions people using the space to develop and learn about a range of manufacturing-related technologies. "It's from A to Z."
But for starters, he predicted, much of EMC2's business will focus on what GE Additive and AWS have to offer.
AWS is one of four partners in the Energy INsights program, along with Indianapolis-based Energy Systems Network, EMC2, and IEDC. The program launched as a pilot project last fall and became available statewide this month.
Participants can install sensors in their manufacturing area, collect data, and transfer it to an AWS account where it is stored, analyzed, and modeled using artificial intelligence. The participating company then receives the result of this analysis, along with information they can use to help reduce energy costs.
Industry 4.0 may seem intangible and hard to grasp, Roberts said, but energy consumption is something every manufacturer thinks about. This, he said, makes Energy INsights the perfect vehicle to introduce businesses to Industry 4.0. "It's relevant in a real, tangible way."
Once companies participate in Energy INsights, the hope is that they will discover more ways to use data analytics and cutting-edge technology to improve their operations.
Thanks to a $5 million grant from IEDC, small and medium-sized manufacturers can participate in the program at no cost. Large companies will pay up to $25,000, depending on their annual revenue.
Anderson said he's set an admittedly lofty goal of getting 100 manufacturers from across the state to participate in Energy INsights over the next year.
printing parts
GE Additive's presence at EMC2 means that 3D printing will be another area of ​​focus on the site.
GE Additive was established in 2016 as a standalone division of GE Aviation. The company is headquartered in the Cincinnati suburb of West Chester, Ohio.
EMC2 will be the company's first U.S. collaboration site that educates customers and potential customers about its binder-jet technology. Companies will be able to test its metal 3D printer.
"We think this could help lower the barrier to entry for people," said Josh Mook, chief engineer and innovation leader at GE Additive. "Indianapolis is a fantastic place for collaboration."
Mook said metal 3D printing has been used for several years, but primarily to produce low-volume parts in the medical and aerospace industries, including in GE Aviation engines. It's only recently that the technology has become fast enough to be a viable option for high-volume production – parts produced in the millions a year in the automotive industry, for example.
"That's the border we're crossing right now," Mook said.
Compared to traditional manufacturing methods, where parts are cut or shaped from large pieces of metal, 3D printing is less expensive. Manufacturers can also reduce costs because less human labor is required, and a 3D printer can be quickly reset to manufacture a variety of parts, opening up the possibility of doing more manufacturing in-house and simplifying production lines. supply.
"I think the time has really come, for all these reasons, for the additive to catch on," Mook said.
EMC2's collaborative space, he said, should help GE win new customers because they can see the technology in use and test it before buying. It will also be a place where technology partners can come and refine their integrations. A company that provides cobots, for example, could visit EMC2 to understand the details of how its technology can work with that of GE Additive.
Fred Cartwright, president and CEO of Indianapolis-based Conexus Indiana, said he was excited about the possibilities of EMC2. Conexus, an initiative of the Central Indiana Corporate Partnership, promotes the state's advanced manufacturing and logistics industries.
Indiana's manufacturing productivity relative to other states has fallen in recent years, Cartwright said, partly because of lack of investment and partly because of labor shortages.
"One way to improve that productivity is to introduce this digital technology, Industry 4.0 technology," he said. "EMC2 is a way to do that."
Cartwright said Conexus and EMC2 have already begun collaborating, working to determine how Conexus can help move the Energy INsights program forward.
Looking ahead, Roberts said, IEDC envisions EMC2 as the first step in a larger effort. "We see an opportunity for these types of facilities to be dotted across the state."•