Infinite Flex offers pure copper powder for laser powder bed fusion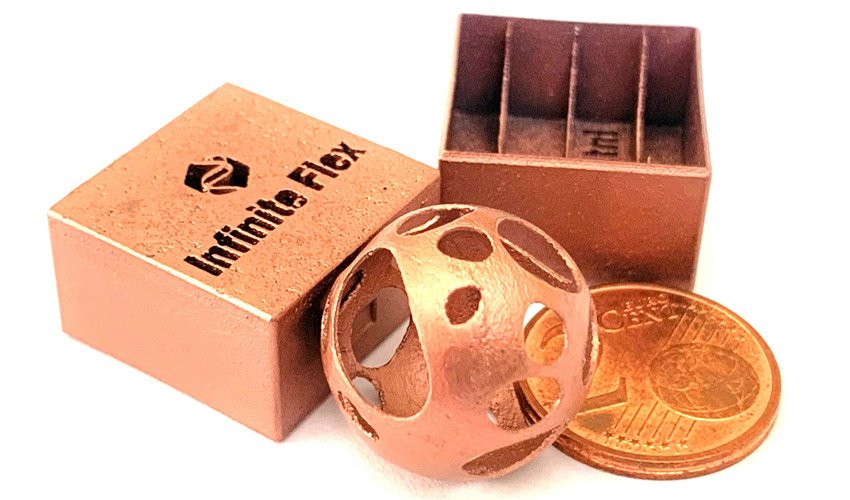 The German company Infinite Flex has developed a copper powder for laser 3D printing processes, in particular for powder bed fusion. It is 99.5% pure copper, which is particularly interesting for the additive manufacturing market, which is more accustomed to using alloys. The materials manufacturer hopes to meet the requirements of sectors such as electronics where conductivity is an essential property.
This is not the first time that we talk about copper in additive manufacturing. It is a difficult metal to process when it comes to using a laser because copper has such high reflectivity that it will also absorb some of the energy needed to make the part. This is why many market players have developed alternatives such as Desktop Metal, which has opted for extrusion, or Digital Metal, which favors binder jetting. Manufacturers like Trumpf have chosen a green laser to process copper, others use alloys, reducing the purity of the material.
Infinite Flex also specifies that it has already worked with alloys: "We have already used copper alloys such as CuCrZr or CuNiSiCr. However, these alloys have the disadvantage of having significantly lower conductivity properties than pure copper. CuCrZr, for example, achieves an electrical conductivity of at best 70% of the value of pure copper, and in the case of CuNiSiCr the conductivity of 24 MS/m is even only about 40% of the value of pure copper ."Faced with these inconclusive results, the company wanted to develop a new material.
Characteristics of copper powder
Called INFINITE POWDER CU 01, the material has a copper content of 95.5% and was developed for SLM, LMD and DDM processes. However, the German company claims that it is mainly used on laser fusion machines such as those developed by EOS or Trumpf. Its elongation at break, also called strange break, that is to say its ability to elongate at break under tension, is 24% while its electrical conductivity is greater than 52 MS/m. The material makes it possible to design parts with a layer thickness of 30 microns and a porosity of less than 0.1%.
This new material would therefore be ideal for the production of heat exchangers, but also for applications in electronics.
and electrical mains which often require high thermal and electrical conductivity. Thanks to additive manufacturing, more complex and resistant parts can be created. However, the cost of a kilo of powder is 85 euros, which leaves little room for error. You can find more information about this copper powder HERE.
What do you think of this pure copper powder for laser powder bed fusion? Let us know in a comment below or on our Linkedin, Facebook, and Twitter pages! Don't forget to sign up for our free weekly newsletter here, the latest 3D printing news straight to your inbox! You can also find all our videos on our YouTube channel.
*Cover photo credits: Infinite bending