How 3D printing can be the solution to the country's affordable housing crisis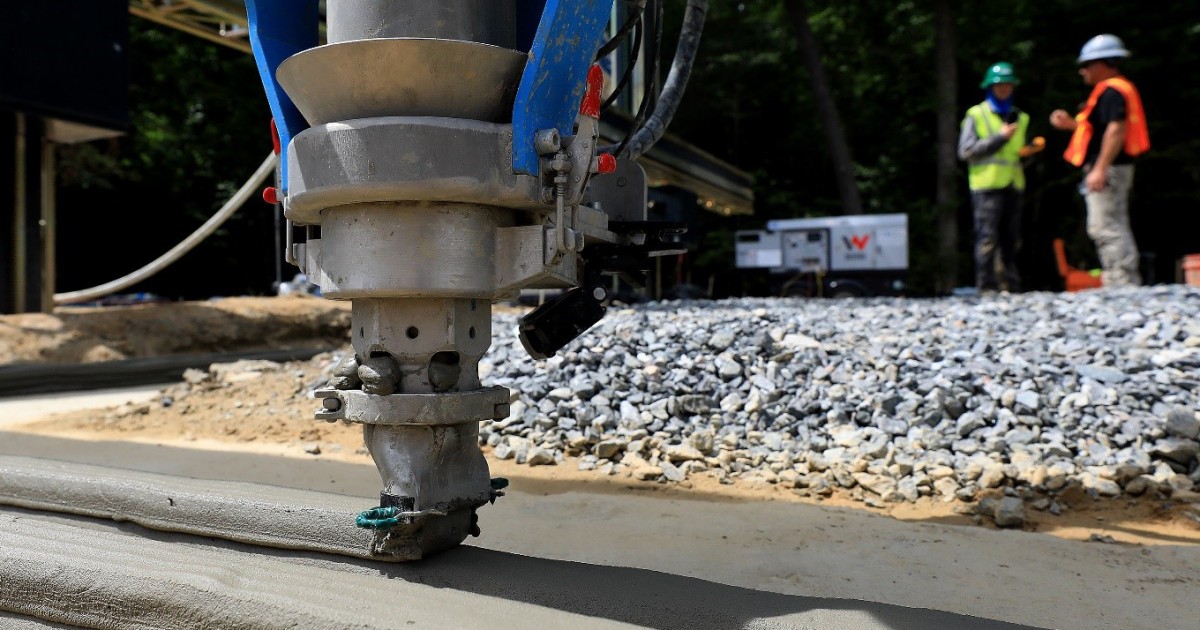 April Stringfield has rented apartments since her early twenties and often worked two or three jobs to make ends meet.
Driven by the desire to own a home, she asked for affordable housing offered by Habitat for Humanity.
She and her teenage son have just moved into their new 1,200 square foot home in Williamsburg, Virginia, built using a 3D printer.
"It's amazing," said Stringfield, 35. "It's like a dream come true."
Habitat for Humanity chose their house as their first 3D printed project. Initiated between a partnership with Alquist, a 3D printing construction company, it is the organization's effort to address the affordable housing crisis in the country, which has increased due to several factors, including increased costs of materials during the pandemic and a booming demand in the housing market.
Based on a March 2020 report report by the National Low Income Housing Coalition, renters with very low incomes – households with incomes at or below the poverty line or 30% of the median income in the region – face a housing shortage of 7 million rental units available and affordable. The report also found that the lack of affordable housing is widespread in communities of color with 71% of very low-income black renters spending more than half of their income on housing.
Organizations like Habitat for Humanity are betting that 3D printing could help ease the growing demand for low-cost housing.
Tawkiyah Jordan, senior director of housing and community strategy for Habitat for Humanity, said the organization has adopted this construction method to meet the need to innovate, while maintaining affordable, high-quality housing. It costs about $ 150,000 to build a typical house with wood. By using concrete to build houses with a 3D printer, Alquist saves up to 15% on construction expenses.
"What really motivates us is this mission for everyone to have a safe and affordable place to live," she said, "and we are also interested in developing multigenerational wealth through home ownership, which is one of the main mechanisms of wealth generation in our country. "
There are many benefits to using 3D printing to build houses, including reduced construction time due to machine efficiency. During the process, concrete is extruded from a large machine into layers that form the walls, foundations and footings of the house. While the machine is printing, it requires little supervision or on-site personnel, which prevents injuries and lowers workers' compensation costs, said Kirk Andersen, director of operations at the 3D printing company based in New York SQ4D.
He said he completed around 40% of a house in just under six months using a 3D printing machine, compared to completing a project in six to 12 months using the practices industry standard construction.
Andersen said he believes 3D printing will eventually become the preferred building method over wood, because it's a more efficient way to build. NBC News reported that lumber costs rose about 154% in May 2021 due to material and labor shortages. Cement also offers better protection for homes against mold, termites and moisture compared to wood, he said.
While a 3D printer offers a quick and efficient construction method, it does present some challenges. The weather can be a big obstacle, which can stop a project if the conditions are not suitable. He also said that many builders lack education on the 3D printing process, preventing more sites from using it.
Stringfield, as the future owner, said she had doubts at first. When informed that her house would be built with a 3D printer, she said she was nervous because the method was so rarely used. She was also worried about having a concrete house. She remembers her great-grandmother's concrete house was always cold, but she decided to follow in her footsteps.
"So I thought it was kind of like, traditional – she had one and now I live in a concrete house," Stringfield said. "I will own the 3D printing. "
His new home has three bedrooms and two full bathrooms. It is also furnished with household appliances and equipped with monitoring systems to control temperature, security and more.
While all Habitat for Humanity applicants must demonstrate a need for affordable housing, they must also partner with the organization during the construction of their or someone else's home. This process, called "earning equity," also includes enrolling in homeownership classes or participating in Habitat ReStore, a program that renovates donated household items and sells them to the public.
In addition to working regularly at her current job as a laundry supervisor at a Great Wolf Lodge resort, she said she needs to pay her bills on time and maintain her credit rating.
Like many low-income black renters, Stringfield works full-time, but his income is only a fraction of Virginia's median family income, which is $ 93,497. The gap had kept her from being able to afford a house. Thanks to Habitat's home buying program, his monthly housing payments, including taxes and insurance, will cost less than 30 percent of his income.
Jeff Olivet, co-founder of Racial Equity Partners, a racial equity training company, said homelessness and the lack of affordable housing are inextricably linked. In a March 2018 report from the Supporting Partnerships for Anti-Racist Communities initiative that he co-wrote, the unavailability of safe and affordable housing is one of the key factors influencing homelessness and creating barriers to the end of roaming for people of color.
He said homelessness has increased in recent years due to a number of factors, including the pandemic, which has had a disproportionate economic impact on communities of color. However, people of color have been disproportionately affected by homelessness for decades due to structural racism, discriminatory housing policies and discrimination in the workplace.
"The reality is the opportunities that people have in this country for economic mobility and economic stability transcend racial boundaries," Olivet said, "and blacks and browns have been excluded from opportunities for decades, for centuries ; and what results are really precarious housing situations with very little economic flexibility to withstand disasters that might arise. "
He said homeownership is a protective factor against homelessness. As homeownership programs like Habitat for Humanity actively work to address the affordable housing crisis, he believes this is only part of the solution. Providing more affordable housing is a national collective effort that also involves setting housing policies and expanding services.
"It's absolutely possible for everyone to have a home," he said, "but we have to solve the housing affordability crisis – and we have to close that gap in units and get us back there. where we were before massive cuts in federal housing spending began to be enacted in the 1970s and 1980s.
Living in an affordable home takes away some of the financial worries Stringfield has experienced as a tenant and allows him to focus on his future goals. She plans to become a registered nurse while making memories in her new home, including her large backyard.
"We can organize barbecues now," she said. "We can organize family reunions. "