Prodways presents the ProMaker P1000 S to democratize the SLS for industrial production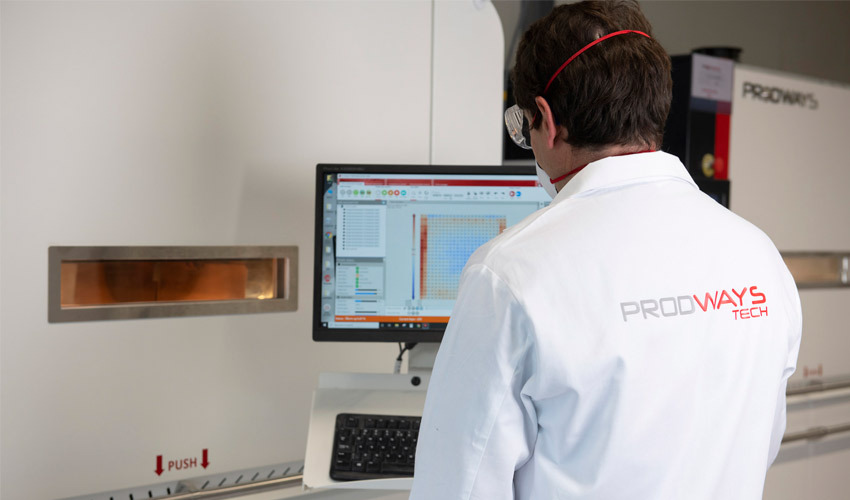 French manufacturer Prodways presented its brand new SLS 3D printer, the ProMaker P1000 S, at the Formnext Digital Days. Designed to make SLS additive manufacturing more accessible, this new industrial solution is reliable, ergonomic, flexible and suitable for industrial production. The ProMaker P1000 S is compatible with PA12, PA11, TPU, and PP, which means it caters to a wider variety of applications, providing mass part design and greater repeatability for any user. With this, the French company hopes to enable more professionals to reap the benefits of laser sintering technology.
SLS is one of the most widely used additive manufacturing processes on the market. It allows parts to be designed with the best properties, especially in terms of isotropy, without any support, which increases the possibilities in terms of geometric complexity. Finally, it is a technology particularly suited to small and medium series. However, the investment in an SLS machine is relatively high compared to processes such as extrusion or photopolymerization. Laser sintering also has its limitations when it comes to mass production. Prodways has developed the ProMaker 1000 S to meet these challenges.
The characteristics of the ProMaker P1000 S
With a print volume of 300 * 300 * 360mm (or 32L), the machine achieves a speed of 1.4L per hour and is equipped with a high quality 30W laser. With its two powder feed tanks, users can print their parts within hours without having to refill the tanks. Prodways claims the machine can be set up in as little as 10 minutes, including cleaning and nesting. The "Slicing on the fly" feature will allow parts to be added to production even if the machine has started. Finally, 50 print settings are available to optimize your production.
Prodways therefore relies on a machine that is more flexible and easier to use while remaining affordable. The current market offers high cost industrial SLS 3D printers and a few more compact machines that are limited by their build volume. The ProMaker P1000 S is somewhere in between and according to the manufacturer it offers the best price / print volume ratio. Sylvestre Perrin, CEO of Prodways Printers SLS, explains: "Our goal is to open up industrial production SLS to new applications, to new users who could not access them before. Precisely on the price side, the ProMaker P1000 S is available from € 117,500 with delivery scheduled from April 2022.
A more suitable material developed with BASF Forward AM
Most SLS machines use PA12 or PA11, materials that offer interesting characteristics but the choice is limited. Prodways wanted to expand the material range and contacted BASF Forward AM to develop a custom polypropylene, PP 1200. It is an affordable powder that has good chemical resistance, high elasticity, low moisture absorption and good recyclability. Sustainability has become a major issue for market players, and more and more users are turning to more environmentally friendly materials. Polypropylene is now recyclable, which is an important criterion for choosing the right additive manufacturing solution.
The ProMaker P1000 S remains compatible with PA12, PA11 and TPU; this partnership with BASF Forward AM aims to unlock new applications for laser sintering and enable users to move towards large-scale production. Sylvestre Perrin concludes, "We are not only offering a new SLS 3D printer, but a fully validated solution, whether in terms of machine, process, material or even workflow. " Please note that until December 31, Prodways is offering a full introductory offer at a competitive price. Do not hesitate to watch the replay of the presentation webinar HERE to learn more about the machine and the offer in question.
What do you think of the ProMaker P1000 S from Prodways? Let us know in a comment below or on our Linkedin, Facebook and Twitter pages! Don't forget to sign up for our free weekly newsletter here, the latest 3D printing news straight to your inbox! You can also find all our videos on our YouTube channel.
* Cover photo credits: Prodways