Who were the winners of the Formnext Start-Up Challenge 2021?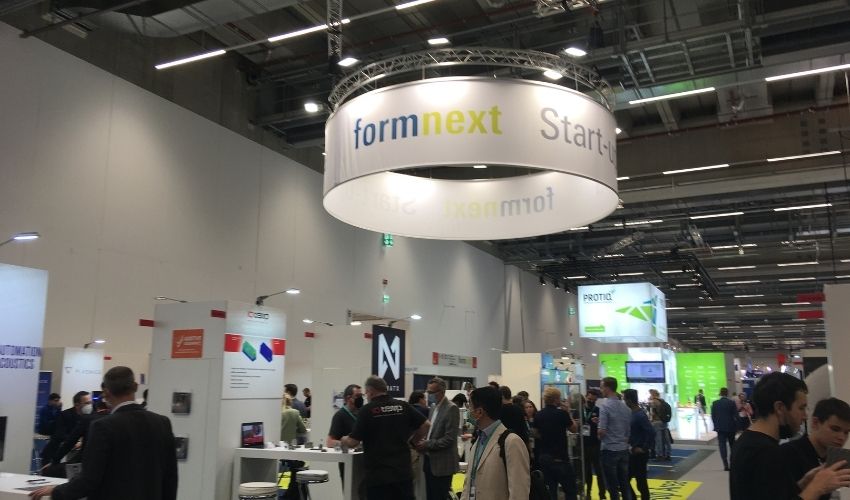 Formnext 2021 kicked off this week and has been an incredible opportunity for many leading additive manufacturing players to come together after two years to connect and share ideas. One aspect of the show that we were particularly excited about was the Formnext Start-Up Challenge 2021 award ceremony, which recognized five emerging innovative start-ups on November 16. Atlant 3D Nanosystems, Azul 3D, Fited, Print Parts and Nobula, as well as AM Ventures Impact Award winner, Vispala Technologies, impressed the judges with their innovative technologies and applications.
This is the seventh time that the start-up challenge has taken place at Formnext. It rewards companies that are no more than five years old and is also designed to help support startups, not only through recognition, but also by offering free trade show participation and a full marketing package. Winners are chosen from a panel of judges from industry, science, media and investment and can participate in a pitch event on the 16th, helping them make important contacts within the industry. . A startup is also awarded annually for the AM Ventures Impact Award which is given to a candidate who cares about sustainability, including environmental and social considerations.
Who are the 2021 winning startups?
This year's start-up challenge winners come from a wide variety of sectors and countries. These are Atlant 3D Nanosystems (Denmark), Azul 3D (United States), Fited (United States), Print Parts (United States) and Nobula (Sweden). This year, Formnext especially recognized that both the quality of the startups and their innovations seemed to have developed even more than in previous years. Indeed, many of them already held numerous patents and had made a number of investments for their applications, which is both promising and ready for the market. Formnext also highlighted the importance of their contributions to 3D printing as a whole, noting in particular the possibility of higher precision, faster productions and new applications in sectors such as aerospace and medicine. Let's take a closer look at the five winners of the Formnext Start-Up Challenge 2021.
Atlant 3D Nanosystems
Atlant 3D Nanosytems, from Denmark, specializes in creating micro- and nano-components using multiple materials and atomic precision. Their advanced manufacturing systems can be used for a variety of applications including R&D, prototyping and manufacturing. These systems can process up to 6 materials on substrates at a time, even those with different properties. Their Nanofabricator LiteTM was developed after NASA approached the company to solve a particular problem for them. Ivan Kundrata, one of the co-founders, told us: "NASA had a personalized problem, it needed a solution for an experiment. They had already planned a flight to conduct their 3-minute micro-gravity experiment. But in their machine, they had created, they could not prove that the atomic layer deposition works in micro-gravity because 3 minutes was not enough time. We actually managed to create a solution with our spatial approach which is faster and we saw that in 3 minutes they would have even more data than they needed. Thanks to this, NASA will be able to use the machine to test microfabrication in zero gravity or weightlessness.
Azul 3D
Meanwhile, Azul 3D, a spin-off company of Northwestern, was chosen for its new HARP technology. The technology uses oil that flows between a light-powered resin and a UV source. Azul 3D hopes it will allow users to enjoy the advantages of resin printing, such as fine detail and excellent surfaces, while overcoming some of its drawbacks, through faster print time. and a large print volume. The technology can be used in many different industries, noted Tuan Tranpham, the company's chief revenue officer, "Azul 3D's ambition is to propel DLP polymer towards mass production and we are targeting high volume sectors. This could be for example sporting goods and consumer goods, but also industrial and automotive applications.
Adjusted
In the medical sector, the American start-up Fited used 3D printing to create a new solution to treat spinal deformities. Based on the same principles applied to braces, the company created a so-called Invisalign for the spine. They hope to replace expensive, time-consuming, handcrafted scoliosis braces with a 3D printed version that is both faster to manufacture and more accurate for the patient. The company predicts that their Fited braces, which are breathable, custom-made and lightweight, will avoid the need for surgery 72% of the time, for a variety of reasons, including, according to Wout Verswijveren, industrial design engineer at the company. 'business, because "Wearing a brace for scoliosis in young children is also very difficult from a social perspective. The most important thing we can address is that it's more comfortable, it's less ugly, it's less bulky, and it means that the adherence rates among the patients are much higher. And this is essential to ensure the success of the treatment.
Printing parts
The American start-up Print Parts also uses nanotechnologies. However, unlike Atlant 3D, Print Parts has developed a digital signature that can be integrated into parts through additive manufacturing. The result is scannable, serialized and cloud-connected components. These programmable nanoparticles can either be integrated into additive materials, or added later to the parts. The company notes that their platform combines management, authentication and tracing of 3D printed parts.
Nobula
Last but not least, the Swedish Nobula has created a desktop glass 3D printer, with lasers reaching 2000 ° C, which they hope will be both cheaper and more versatile than existing glass solutions, with the possibility of use materials like silica glass which has superior properties. While 3D printing on glass isn't really common, it already exists, usually using SLS or FFF. For Nobula, their technology is called Direct Glass Laser Deposition (DGLD) and does not require annealing afterwards, a significant advantage. They claim that it allows users to 3D print glass as easily as plastic. This could be particularly useful for research applications, commented Taras Oriekhov, CTO and co-founder. "We are talking to many industries. For example, the biomedical industry and applications such as microfluidics, microlenses, optics, etc.
AM Ventures Impact Award 2021
This is also the second year that the AM Ventures Impact Award has been awarded. The award continues to be popular among participating start-ups, as evidenced by the fact that two-thirds of the Start-Up Challenge applicants also participated in the Impact Award. This is perhaps not surprising because this award recognizes sustainable approaches that have a positive impact on environmental protection or social well-being, two elements that are often at the forefront of many additive manufacturing initiatives, thanks to the flexibility of technologies and their ability to reduce waste.
This year's winner was Vispala Technologies from India which uses 3D printing to create affordable, highly functional and aesthetically appealing prostheses. They were chosen because the company focuses on people living in developing countries and rural areas, those who often do not have access to these types of products due to lack of access or simply expense. On its website, the company emphasizes in particular the importance of improving the quality of life of communities through access to health innovations. They are among the many companies that are discovering the usefulness of 3D printing in the medical sector. You can find out more about all the start-ups in the Formnext press release HERE.
What do you think of the winners of the Formnext Start-Up Challenge 2021 and the AM Ventures Impact Award? Let us know in a comment below or on our Linkedin, Facebook and Twitter pages! Don't forget to sign up for our free weekly newsletter here, the latest 3D printing news straight to your inbox! You can also find all our videos on our YouTube channel.
* Cover photo credits: 3Dnatives