Origami 3D printed ventilation system to fight COVID-19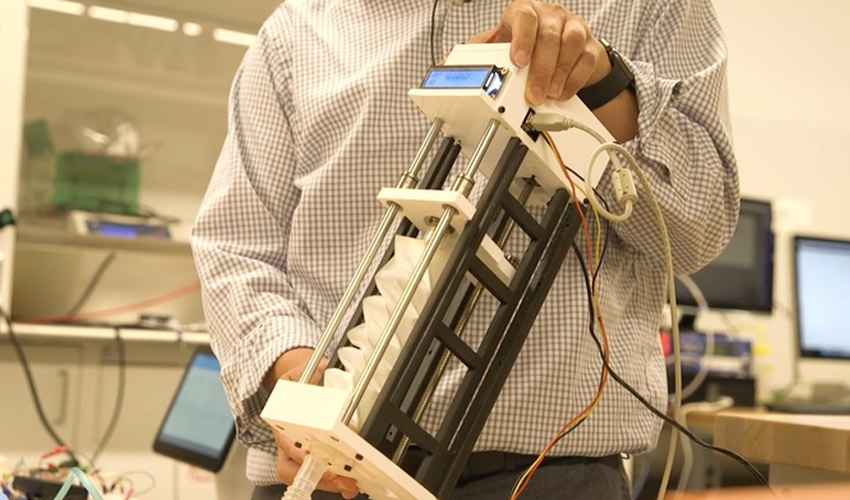 At Simon Fraser University in Canada, a team of researchers led by Professor Kim Woo Soo has developed a 3D printed ventilation system to fight COVID-19. Drawing inspiration from the art of Japanese folding, better known as origami, the team were able to reduce the weight, size and production costs of the portable system, which is 95% 3D printed parts. This portable ventilation system could be of use to any patient who might need a device that is easily transportable outside of hospitals, such as patients in remote rural areas, countries with more difficult access to health care, or those in need. health facilities that treat a higher frequency than normal. volume of patients.
As you know, the recent global health crisis has highlighted the weaknesses of our supply chains, especially in the medical sector. Additive manufacturing has been able to provide short and medium-term responses to allow rapid access to care solutions such as respiratory masks, valves, or even some ventilation systems. As mandates are lightened and daily activities have a semblance of normalcy, COVID-19 is still present and the medical sector remains on alert. In anticipation of a possible new wave, researchers at Simon Fraser University have designed a ventilation system that is easier to transport and less expensive to produce.
This system was designed to provide patients with assisted breathing. The fan design incorporates a 3D printed origami tube, greatly reducing the size of the machine while maximizing its mechanical strength. Kim Woo Soo specifies: "In our origami portable fan, more than 95% of the components can be 3D printed, which is why it is really cost effective. Other portable devices can cost over $ 2,000, but our 3D printed fan can be produced for around $ 200.
Thanks in part to the use of ultralight materials, the system weighs just 4.5 kilograms. The team did not specify which process was used, but we imagine it to be a extrusion technology. In any case, this device could well help patients who do not have access to a nearby hospital environment. Kim and his team also began research into making 3D printed origami dry electrodes that could detect and monitor physiological signals such as temperature, heart rate, or muscle movements. You can find more information HERE.
* Miniature photo credits: Simon Fraser University
What do you think of this 3D printed ventilation system? Let us know in a comment below or on our Facebook and Twitter pages. Don't forget to sign up for our free weekly newsletter, with all the latest 3D printing news delivered straight to your inbox!