ICON completes first sale of 3D printed homes in the United States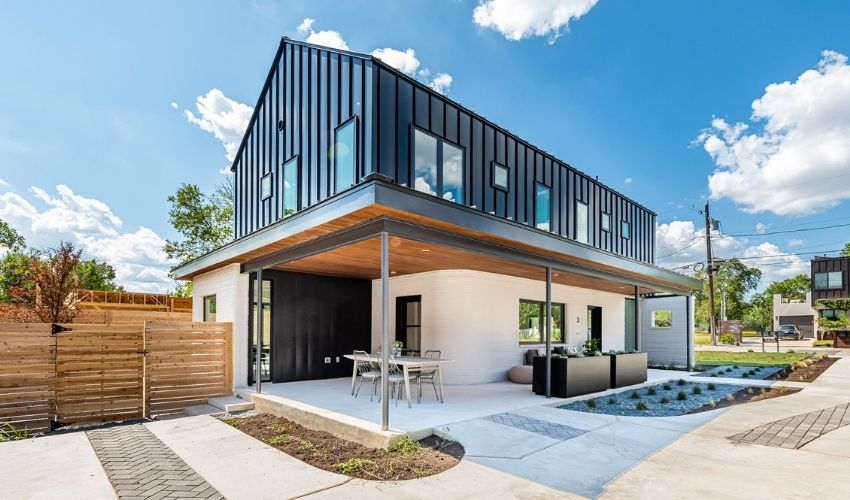 All over the world, 3D printed houses are being built at high speed and the Texas start-up ICON is one of the main players in these developments. In Austin, the Residences on 17th Street East has 3D printed houses built by ICON in the market. The four houses were a collaboration between ICON and real estate developer 3strands. ICON proclaims that these are the "first 3D printed homes for sale in the US and ready to move in"Already impressive, one of the four houses has already been sold.
The 3D printed first floor of each house was constructed using ICON's advanced material which is stronger and more durable compared to traditional building materials. 3D printing technology provides stronger homes, built to withstand extreme weather conditions and disasters, including fires, floods and high winds, all built in a matter of weeks. "3D printing technology provides safer, more resilient homes designed to withstand fire, flood, wind and other natural disasters better than conventionally constructed homes"the company shared in a statement.
3d printed house construction
As you may recall, ICON's 3D printing technology is also used to build a simulated Mars surface habitat. While the startup was initially launched under the auspices of affordable housing development, this 3D printed house project from ICON includes housing in the order of $ 750,000, which is quite out of reach for the public. most of the population. Within a walking and cycling community located 3 miles from bustling downtown Austin, there are four 3D printed homes in the Austin, Texas development; two 2 bedroom houses and two 4 bedroom houses. The 2 bedroom properties are already under contract and the two 4 bedroom homes are still on the market.
Each house took about five to seven days to print and features a private yard, covered parking spaces, large windows and high performance HVAC. The ground floor walls were constructed using ICON's Vulcan building system with the Portland cement-based material Lavacrete which created the ridged surface layers. Responding to aesthetic concerns, the interiors of each home were designed by Austin interior designer Claire Zinnecker. "Drawing inspiration from the natural structural materials of houses, wood, metal and concrete, she chose a simplified color palette of green, white and terracotta and lighting fixtures that play on natural materials. said ICNE. Learn more about these 3D printed houses built by ICON HERE.
What do you think of these 3D printed houses by ICON? Let us know in a comment below or on our Facebook and Twitter pages. Don't forget to sign up for our free weekly newsletter, with all the latest 3D printing news delivered straight to your inbox!