The first 3D printed concrete arch bridge completed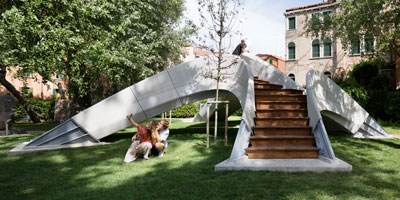 Zaha Hadid Architects and the Block Research Group at ETH Zurich completed Striatus, the world's first 3D printed concrete arch bridge, in Venice, Italy.
Striatus is an arched masonry walkway made up of 3D printed concrete blocks assembled without mortar or reinforcement. The 16-by-12-meter (approximately 52-by-39-foot) bridge is the first of its kind, combining traditional master builder techniques with advanced computer design, engineering and robotic manufacturing technologies.
Striatus follows a two-tier masonry logic. Overall, the bridge behaves like a series of leaning unreinforced voussoir arches, with a discretization orthogonal to the dominant force flow in compression, following the same structural principles as the Roman stone arch bridges.
Locally, at the segment level, the 3D printed concrete layers behave like traditional brick masonry like the inclined rows of Nubian or Mexican vaulted bricks.
Unlike typical single horizontal layer extrusion 3D printing, Striatus uses a two-component (2K) concrete ink with a corresponding printhead and pumping device to accurately print non-uniform, non-parallel layers.
This new generation of concrete 3D printing in combination with the arched masonry design allows the resulting components to be used structurally without any reinforcement or post-tensioning. For Striatus, Holcim, a global building materials company based in Switzerland, has developed a specific, bespoke, proprietary 3D printing ink.
Integrating design, engineering, fabrication and construction, Striatus redefines conventional interdisciplinary relationships. The precise fabrication of the blocks was made possible by a well-defined data exchange between the various domain-specific software tool chains involved in the process.