3D printing lets Amish draft horse breathe again | State News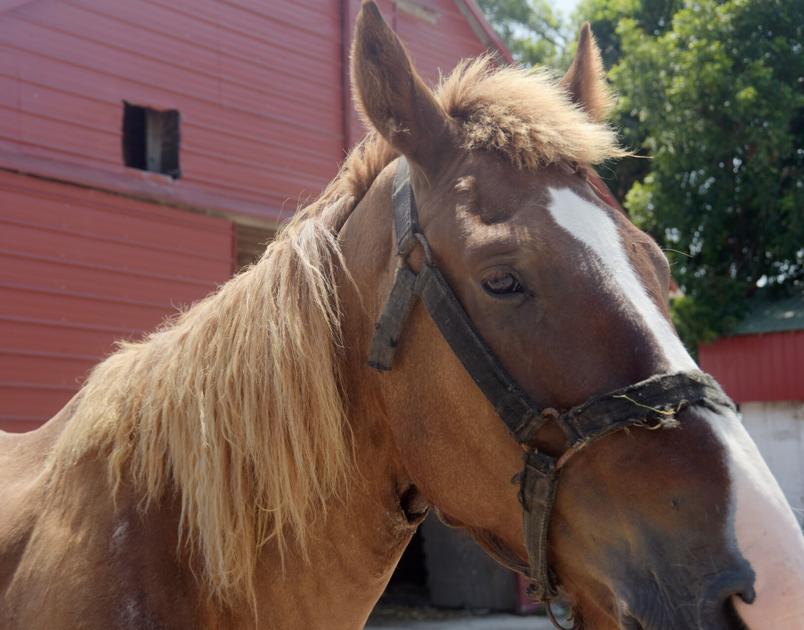 CLARK – A typical summer day for a Belgian draft horse on an Amish farm involves plowing the fields until lunchtime, eating a bucket of oats, then returning to plow until dinner.
So when a workhorse named Ronnie started having trouble breathing three years ago, he couldn't complete all of his chores. Because Ronnie is a vital worker at the Petersheim farm in Clark, his owners have become deeply concerned.
Enter Dr. Kevin Keegan, an equine vet who saw the horse last summer. Ronnie had previously had a tracheostomy in 2018 to open his trachea, but debris was blocking the opening when he was working.
Keegan had to find a way to prevent the blockage while still keeping the airways clear.
He sat down one day to think about a respirator and drew a quick sketch. Then he brought his idea to MU's 3D printing lab and partnered with two engineering students.
They used the 3D printer to bring the sketch to life, creating a one-of-a-kind trachea device to restore Ronnie's ability to breathe.
Ronnie is a 1,800 pound Belgian draft horse owned by Menno Petersheim, an Amish farmer who lives with his wife Rachel and family on a 240 acre farm. With the help of his 11 children, many of whom are now adults, Petersheim raises cattle and grows corn, oats and soybeans.
Draft horses play a major role in the day-to-day running of an Amish farm where horses are preferred over tractors and combines for planting and plowing fields.
A good hardworking horse that can be trained to work with a team can cost a farmer almost $ 6,000. Ronnie is Petersheim's main workhorse, responsible for a team of seven horses pulling a two-bed plow – four horses in the back and three horses in the front.
Ronnie is placed right in the middle where it is essential that he is in top condition.
Her breathing problems became noticeable around the age of 4. Equine vets performed the tracheostomy, piercing a hole in Ronnie's windpipe to help bypass his clogged waves and allow him to breathe more easily.
What they didn't realize was how hard Ronnie was working. When Ronnie walked the fields after surgery, dirt and bugs clogged his tracheal hole, cutting off much of his oxygen supply. This made Ronnie tire quickly and therefore couldn't finish his chores.
At the MU Veterinary Health Center, Keegan realized that the horse needed a device to keep debris from plugging the hole in his windpipe, while still allowing him to breathe normally.
After Keegan drew his sketch, he wasn't sure how to turn his two-dimensional design into a real device. So he made a call.
"I contacted the president of the 3D printing club here, and he set me up with two students," Keegan said. "And that's how it started."
Keegan was introduced to Griffen Mustion and Holly Anderson, two engineering students and members of the 3D printing club. He showed them his drawing and they walked over to Petersheim Farm to take a look at Ronnie. They needed to see how big the device had to be to fill the hole in his windpipe.
Making sure the device was going to fit was the most important and yet the hardest part, Keegan said. It had to be firm enough to stay in place but flexible enough to bend and expand as Ronnie worked.
Using 3D printing software, Mustion and Anderson adjusted the size, depth and height of the device until they found the perfect fit.
When finished, they sent it to the printer. The pair had to make 13 prototypes, each taking four hours to print, before they found one that would work.
The latest device looks like a spool of thread with a small screen that prevents additional skin, bugs, and dirt from entering Ronnie's windpipe as he works. It's kind of a screen door for the horse's trachea, Keegan said.
Kara Stowers, a neighbor of the Petersheims, helped lead the horse to the Columbia veterinary clinic when the family needed transportation.
"It's really amazing that Ronnie can still do whatever he can on the pitch with that thing in his neck," Stowers said.