A 3D printed concrete house breaks new ground in Virginia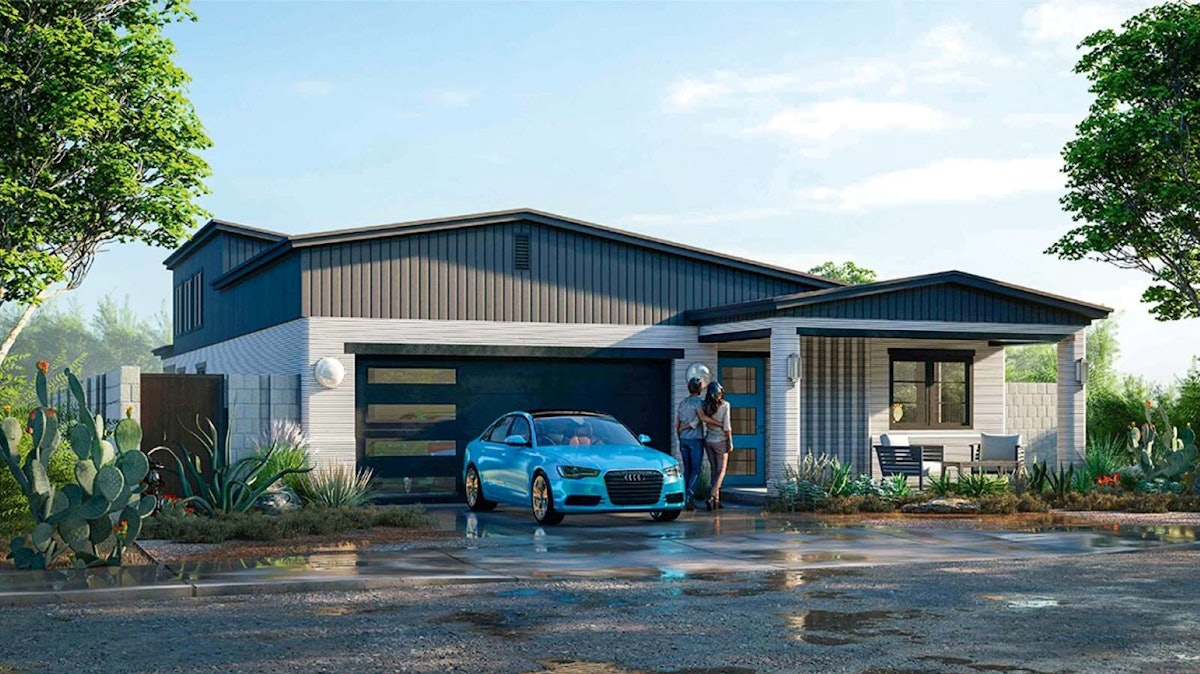 The first home funded by a public-private grant was inaugurated in early June 2021. Led by a 3D printed home builder Alquist 3D in partnership with the Virginia Center for Housing Research at Virginia Tech., Construction is underway at Richmond, Virginia, and funded by a $ 500,000 Innovation Demonstration Grant from Virginia Housing. Project: HOMES and the Better Housing Coalition have provided a site that will help with regulatory compliance such as permits, zoning and insurance, as well as home ownership services.
AlquisteAlquist uses cutting edge technology to create homes, buildings and other structures aimed at lowering the cost of homes and solving the housing crisis. They have invested more than four years of research in 3D printing technology, working with 3D printer manufacturer COBOD and partner company Alquist, Atlas community studios, who has led rural revitalization and economic development projects in more than 20 states.
Project specifications:
1,550 sq. Ft. Of space
Features three bedrooms, two bathrooms, kitchen island, utility room, covered porch (with swing)
Target cost: $ 181,000 for future 3D printed homes, listed for around $ 210,000 (the costs and selling price of this initial prototype will likely be higher)
Should be 50% more energy efficient than code requires
Through this partnership, the two companies have come together to meet what they believe is the number one need in almost every rural community: housing. They hope to work together in communities across the United States in the development of new single-family, multi-family, mixed-use, and senior living units. But Alquist doesn't stop there. They have invested in research to determine if 3D printing technology can be used for the construction of alternative concrete structures such as roads, elevator shafts and retaining walls.
According to National Association of Home Builders, "Estimates indicate that a $ 1,000 increase in the median new home price ($ 346,757) would take 153,967 households off the market." Unfortunately, construction using lumber at current prices brings its own set of challenges and monetary issues. However, as noted in the June 8 announcement, this expense increased the price of an average single-family home by almost $ 36,000.—Put new homes out of reach for more than 5.5 million families.
Potential savings
Founded to address this inequity in the housing market, Alquist was founded on the belief that 3D printing technology could be a potential solution to lowering the cost of housing construction. The contractor's 3D printed concrete houses use concrete and, it seems, "estimates suggest up-front savings of up to 15% per square foot on construction costs "as well as a significant cost in labor (potentially weeks). Alquist says a concrete 3D printer frame can be built with two workers (with training) in 12-15 hours. Richmond's project announcement states that "Alquist will 3D print the exterior walls, while building the interior and exterior walls of future houses ".
Alquiste
Alquist also claims long-term savings, including heating, cooling as well as potential resistance to damage from tornadoes and hurricanes. Standard in all Alquist homes, a proprietary Raspberry Pi-based monitoring system from Virginia will be installed in the Richmond project to track and maintain the indoor environment, helping homeowners save money on data.
Detection of the indoor environment, including air quality, temperature, humidity, lighting, sound, vibration, flames and many types of gases
Security and alarm system with motion detection in assigned spaces of the building
Emergency management, including smoke and fire detection
Occupant comfort analysis
Analysis of space use
Optimization of energy consumption
"While most 3D printing efforts focus on urban residential areas and commercial buildings, many areas facing the greatest housing challenges exist in rural America. are partnering with Virginia Housing and Virginia Tech to build homes for people who live outside the places where most housing program funds are spent. These two leading organizations are breaking down barriers and finding new ways to serve their needs. community, and we are honored to work hand in hand with them.

–Zachary Mannheimer, Founder and CEO of Alquist
The announcement explains that the grant money was not only used for the construction of the house, but that Alquist was also able to purchase a BOD2 modular 3D printer from Building Construction On Demand (COBOD). "The printer operates on a gantry system that is assembled on site, eliminating the need to ship large, prefabricated modular parts to construction areas. The system can be set up in four hours and dismantled in three hours. The BOD2 can also print on uneven surfaces. It is open-source, which allows a number of materials to be used, including new, sustainable materials under development. Even more remarkable, the system can be used by only two trained construction workers. "
According to Virginia Housing, the cost of building a 3D printed house can be $ 10 less per square foot than a wooden house.
A render of a COBOD 3D concrete printer.Construction of buildings on demand
Andrew McCoy, Ph.D., and Virginia Tech Manager of Alquist explain that his team was delighted to work with a partner like Alquist: "The technology in itself is an interesting challenge and its possible impact on costs, timing and quality of accommodation is exciting. McCoy says. "The long- and short-term time and cost savings over 'standard' homes have continued to unfold throughout the design-build process, and we are delighted to pass these savings on to family who ultimately calls this incredible "home" project.
Alquiste
Virginia Housing is working with housing experts and community partners for the Richmond 3D House. Susan Dewey, CEO of Virginia Housing, says, "Our latest project builds on recent innovative approaches we've explored, including modular and manufactured homes, and it reflects our long-standing commitment to making homes affordable for all. Virginians. The lack of affordable housing impacts every family and community, and we won't stop until every Virginian has a safe and affordable place to call home.
PERI Group
Meanwhile…
Meanwhile, on the other side of the country, the PERI Group – the formwork, scaffolding and engineering company – built "the first residential building in the United States" (announced June 16, 2021) in Tempe , Arizona. They claim this is one of the first 3D housing projects to date that has passed all regulatory approval processes.
project details

Single-storey single-storey house

1,720 ft² (160 m2) of living space

Two week printing time
According to current plans, the house will be ready for occupancy in August / September 2021 – a considerably impressive schedule compared to a revolutionary standard construction until its completion. Like Virginia, the construction of PERI in Arizona will also benefit the community. The company has partnered with the regional organization Habitat for Humanity.
"The use of 3D printing technology is a tremendous opportunity for Habitat for Humanity," said Jason Barlow, President and CEO of Habitat for Humanity Central Arizona. "The current housing problems in Arizona convincingly demonstrate the need for affordable homeownership. To solve problems in a sustainable way, we need new ideas and methods to build adequate, affordable and more energy efficient houses at lower cost, in less time and with less consumption of materials. The Tempe project is a prospective step for us.
Although one of the first to adopt in the United States, the house is not a first for PERI as they have completed a number of projects in Europe. Thomas IMbacher, member of the board for innovation and marketing of the PERI group explains that they worked on the first houses in Germany such as the printing houses in Beckum (North Rhine-Westphalia) and Wallenhausen (Bavaria). He considers the company "to take a new step in the development of the 3D printing technology market."
PERI Group
In 2018, PERI acquired a stake in COBOD – the Danish manufacturer of "BOD" and "BOD2" 3D printers. PERI used BOD2 in the construction of the two projects in Germany as well as this last house in Arizona.
The June 16 release describes the BOD2 system with a printhead that moves in three axes on a firmly installed metal frame. The advantage here is that the printer can move along its frame to any position in the build and only needs to be calibrated once. This saves time and reduces costs. During the printing process, the printer takes into account the pipes and connections for water, electricity, etc. which must be installed later. The BOD2 has been certified in such a way that it is possible to perform work in the print area while printing is in progress. This means that manual work, such as installing empty pipes and connections, can be easily incorporated into the printing process.
PERI GroupTwo operators are required to operate the printer. The printhead and print results are monitored by a camera. With a speed of 1 m / s (i.e. takes about five minutes to make 1 m² of double skin wall), the company claims that the BOD2 is currently one of the fastest 3D construction printers available.
Will this mentality spark a new wave of profitable and eco-friendly homebuilding? Only time will tell. The list of 3D concrete contractors in the United States is short, however, contractors like Alquist and groups like PERI have already oriented their designs towards rural and residential construction.
Keep an eye out for the next few years. Considering the potential for cost, time and creativity savings that concrete 3D printing could offer, there will likely be plans for many more projects like these and more across the country.