On the rise – Newton Daily News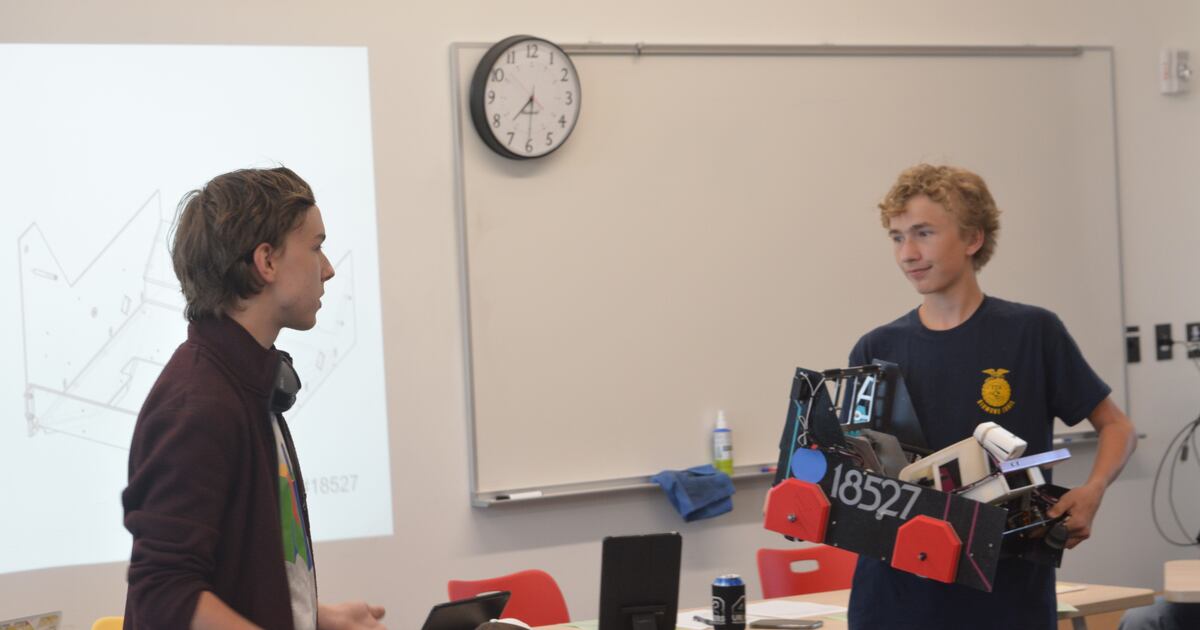 [ad_1]

In its first year, the PCM robotics team has taken the stage by storm, ranking among the top 10% in the world and learning more than it could have imagined along the way. The team, the PCM Alchemist, presented their process and results to the school board at its June meeting.
"None of our team is experienced, we are all newbies and had no idea what we were doing to get started. It kind of showed up at the start but we got up quickly. and did some pretty awesome things, "said Justin Hall." At the start of the season we struggled a lot, but we learned a lot and achieved almost everything we set out to do. "
The team set specific goals, including getting 100 points by the end of the seasons, shooting discs, creating a loading mechanism, driving straight and creating an arm. Most of the goals were very specific to the robot they were building and after some trial and error the group achieved their goals and more.
"We started to meet, first in October, we had a few meetings with other teams to figure things out, we started to design and learn a lot of engineering skills, to program," said Evan Johnson. "We ended up with a high score of 244."
Team Supervisor Daphne Emmack-Owens explained their accomplishments and the work that made their goals a reality.
"At the start of the season, we didn't know about a CAD. These guys self-taught themselves in CAD and did CAD at university level. Evan himself learned Java and programmed everything in Java. Engineers at the University of Iowa said it was quite impressive that they learned for themselves in such a short time, "said Emmack-Owens. "The score of 244 is phenomenal. Half of the teams in Iowa State, which is one of the world's foremost robotics learning places, couldn't score 200, let alone 244. That's in the top 10 for hundred in the world.
The robot, which is designed to shoot rings, collect them and then keep shooting, is a custom design by the team. There were times when they thought the whole team could go their separate ways, but they managed to come up with something really awesome.
"When you see a movie there's often a big third act breakup where everyone will be frustrated with each other and think about quitting and it will seem like they're so close but so far away from their end goal. It was a night when it was 11pm and we were all crying and frustrated, so we all went home and all thought about quitting, but we came back better and it ended up working, "Hall said.
The work that resulted from the struggles led the team to move away from even a workable model.
"Our first design worked amazingly for one of the first things we envisioned as a team and we could have stayed with that and done OK over the seasons," Johnson said. "We wanted to do more, so we kept pushing. It was a bit slow compared to some we had seen. We decided to try to make it faster.
Making these improvements brought new challenges to the team as the scaling wasn't always distributed evenly across the robot.
"By making it faster, it has become very fast. The problem is, we have lost all the good qualities in trying to go faster. He basically got stuck in a way that would have killed our runs after that because we couldn't shoot any more rings, "said Hall. "We found that there were some opportunities to improve."
The team also worked with local businesses and community members to make the robot a reality. Relationships have been formed and bonds established that will continue to help them in the years to come.
"They went to Pella Windows and they printed parts for us with carbon fiber so they wouldn't break. Evan's grandfather had a friend who cut metal and laser cut all of our metal. The school technology teacher 3D prints for us, "said Emmack-Owens. "We built relationships with companies all over central Iowa and they donated almost all of these materials with their own money and their own time. "
By the end of the season, the team had not only achieved most of their goals, but exceeded them. They always hope to get some cool outfits to go with their awesome robots.
"We had national recognition, we had recognition from Iowa state universities. We got recognized in California, Oregon, Seattle, there were judges from all over the county who said we were some of the most awesome teams they've seen all year. For a freshman team, what we accomplished was beyond what anyone thought we were going to do, "said Emmack-Owens. "As PCM, we put ourselves on the robotics map. We made a name for ourselves from January until now.
Contact Jamee A. Pierson at 641-792-3121 ext. 6534 or [email protected]
[ad_2]