Aectual 3D prints planters from recycled plastic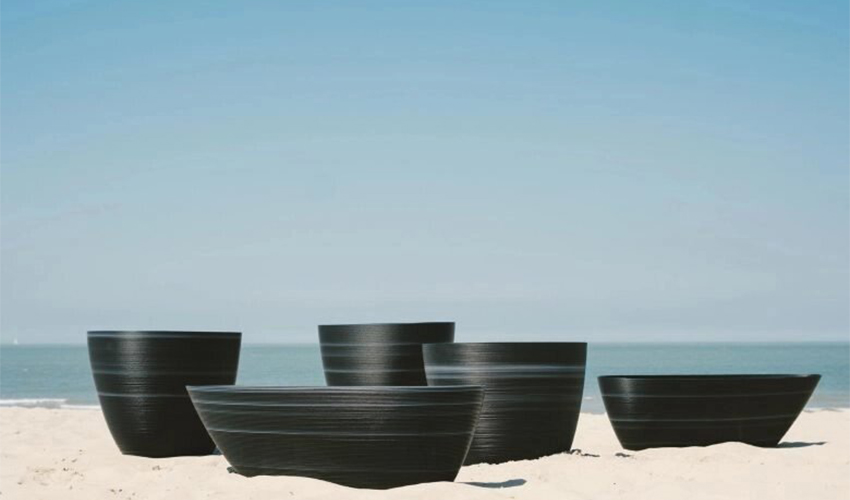 In order to deal with the growing problems regarding humanity's ability to recycle plastic, many industries have turned to the additive manufacturing sector for solutions. For example, a few weeks ago, we told you about 3D printed beams from recycled plastic, developed by researchers at the Polytechnic University of Valencia, with the aim of replacing reinforced concrete. And Spanish scientists are not the only ones looking into the matter. Together with the architectural firm DUS Architects, the Dutch sustainable architecture firm Aectual uses 100% recycled plastic to make flowerpots dubbed "Mussel".
It was to respond to the invitation of the Belgian magazine Sabato that the two companies decided to develop this project. Each year, as part of the "Knokke" series, Sabato invites a team of designers to make an item made from materials found in the Belgian coastal town. This year, DUS Architects and Aectual decided to use plastic. "We must get rid of the negative idea that plastic is a disposable product», Says Hans Vermeulen, co-founder and CEO of Aectual. "It is also a raw material with which we can do beautiful things, with the new profession of 3D printing. We want to help make the construction world very polluting, cleaner and the world a little more beautiful. It all starts on a small scale with this planter. "
The characteristics of 3D printed planters
The design of the 3D printed planters is inspired by molds because just like additive manufacturing, molds create their shell layer by layer. To start manufacturing these planters, Aectual used its four robotic arm 3D printers, capable of printing on an area of ​​500 square feet with a range of 360 °. Made from plastics found on the beaches of Knokke, but also Belgian household waste, the planters have been individually printed, which is why they each have unique details. Finally, the Dutch company revealed that the amount of plastic used to make a single jar is equivalent to 120 bottles of shampoo.
Aectual specifies that the planters are designed to be placed both indoors and outdoors. The larger planter measures 98 x 40 x 29 cm, while the larger planter measures 55 x 45 x 49 cm. If you want to buy these 3D printed jars, head over to the Sabato magazine website, where they are on sale until September 30. Currently, 500 planters are available on site.
What do you think of Aectual's 3D printed planters made from recycled plastic? Let us know in a comment below or on our Facebook and Twitter pages. Don't forget to sign up for our free weekly newsletter, with all the latest 3D printing news delivered straight to your inbox!
Cover photo credit: Aectual