Marines Create Innovative Vehicle Maintenance Tool Using Additive Manufacturing> U.S. Marine Corps Flagship Article> Info View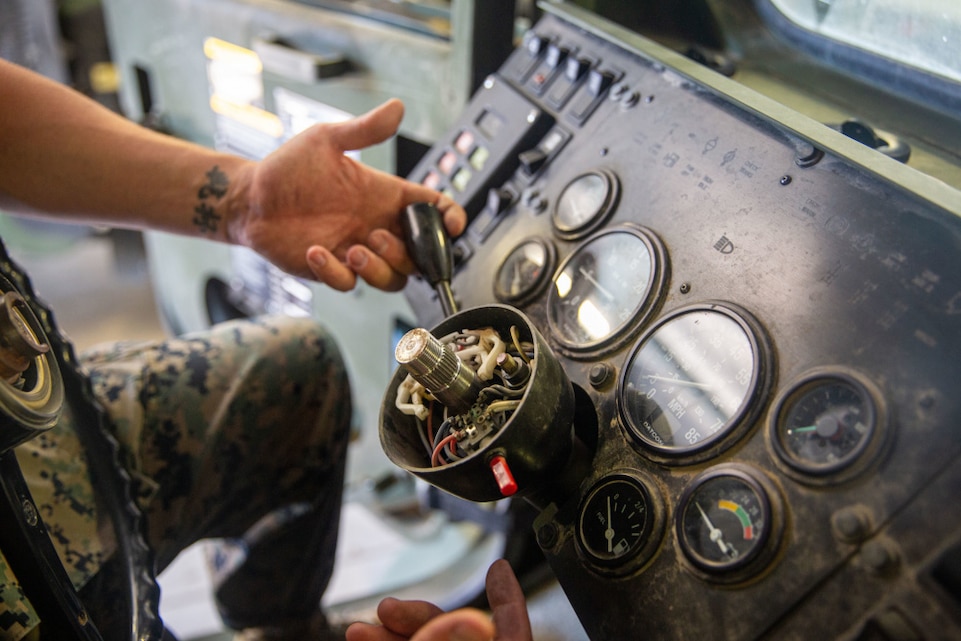 QUANTICO, Virginia –
Marine Corps System Command's Advanced Manufacturing Operations cell worked with 1st Supply Battalion and industry partners to develop a 3D printed metal flywheel removal device. This innovative solution solves a common problem among vehicle maintenance Marines.
"We're always talking about how the Marines move towards the sound of gunfire," said Captain Matthew Audette, AMOC project manager at MCSC. "If we open up that opening a little bit, we can say that the Marines are heading for the sound of problems, and they're fixing those problems." Additive manufacturing lowers the barrier to entry for the physical manufacture of this solution.
The Marines are to remove the steering wheel columns for the medium tactical vehicle replacement and the logistics vehicle system replacement during vehicle maintenance. The removal tool that came with their service kit, a 10-way sliding hammer, requires users to exert heavy pressure on the steering wheel column. This often leads to breakage or damage to the flywheel.
"There are tools that already remove the steering wheel," says Audette. "But they have a high percentage of the flywheel breaking in the process."
Once a steering wheel is damaged, the Marines must order a replacement part. Typically, the delivery time for a spare part is 25 days, taking the vehicle out of service. With additive manufacturing, Marines can create solutions in a fraction of the time. Tools produced by additive manufacturing, such as the flywheel removal device, help reduce maintenance time and increase uptime.
Staff Sgt. Kyle Owens, a motor transport manager with 1st Marine Logistics Group, designed and developed the first flywheel removal device out of sheer frustration. The innovative solution won him an Operational Agility Team award for the Innovation Challenge.
"I was a young corporal working on trucks and I was fed up with getting chewed for breaking the wheel," Owens said.
"I was bored one day at lunch with my boyfriend and we just started to think about a better way to remove the steering wheel without breaking it every time. " Staff Sgt. Kyle Owens, Head of Motor Transport, 1st Marine Logistics Group
Owens developed his initial prototype in 2012 using scrap metal and washers he found in his fleet. Last year, he had the opportunity to collaborate with the innovation manager of his unit to create a prototype of his device using additive manufacturing.
"My biggest [concern] was to find out if there was a way to earn more, so the Lance Corporals and Corporals under my command didn't have to face the same challenges as I did, "said Owens. "If I can help make their lives easier, that's all, because I know what it's like to be that young Marine who's in trouble for breaking something."
Owens worked with Cpl. Aiden Bemis, a digital manufacturing engineer from 1st Supply Battalion, and engineers from AMOC to design and print the tool. They developed several iterations of the polymer prototype before moving on to metal.
"We started to develop the polymer prototypes because they are the typical 3D printers of the Marine Corps business," said Kristin Holzworth, AMOC chief scientist at the MCSC. "It's a cost-effective and affordable approach to prototyping while you refine the design. "
After Bemis performed a check on the shape, fit and function of the polymer tool, the team proceeded to develop the metal components. The Marine Corps worked with industrial partners specializing in metal additive manufacturing to create the final prototype. The metal printer takes about a day to print each batch of flywheel removers and yields 36 devices per batch.
AMOC facilitated the arrangement between the 1st Supply Battalion, the MCSC and two industry partners for the final approval of the tool. Once the prototype was refined and ready to be printed, Marines sent the design to AMOC for approval and inclusion in MCSC's additive manufacturing digital repository.
"We have an additive manufacturing parts approval form that we are asking Marines to complete," said Holzworth. "We ask them to complete a risk assessment and identify which of the four color-coded bins, detailed in Marine Corps order 4700.4, the [additive manufacturing] the part aligns best with. The flywheel removal device has been submitted as a green bin component, which means it is approved for use and production, which we have verified.
AMOC has approved the steering wheel removal device as a Marine Corps enterprise-wide solution. Marines interested in printing and using their own can find blueprints for the tool in the MCSC Digital Repository.
The repository is a secure website where Marines can upload their part designs for approval and share them with fellow Marines around the world. It has about 500 spare parts designed by the Marines, Audette said.
State-of-the-art manufacturing gives the Marine Corps additional flexibility. This manufacturing method encompasses additive manufacturing, welding, laser cutting, drone construction and other services that meet the needs of the combatant in a timely manner.
Traditionally, Marines were limited to the equipment and resources available. Advanced manufacturing allows units to print items as needed.
"[Advanced manufacturing] supports Force Design 2030 because it lightens the load logistically, "said Audette. "As we put additive manufacturing and other advanced manufacturing capabilities into maintenance battalions, we can design unique parts based on a hyper-specific need that we only need one or two. "
The Marine Corps established AMOC in 2019. AMOC provides 24/7 3D printing support for the fleet and program offices. They also manage the parts approval pipeline for ground equipment spares created by the Marines.
AMOC performs extensive testing, experimentation and analysis to find new ways to harness advanced manufacturing technology. Fleet Marines can reach AMOC at [email protected] or by calling (703) 432-3966. If the Marines want to share an idea or see the digital repository, visit http://mm.md5.net/.
"AMOC is basically the Corps' on-call nerds," said Captain Audette. "There's not a lot of expertise in the Marine Corps in advanced manufacturing because it's newer technology. As people become more familiar with this, we are the on-call experts for all Marine Corps members to contact and operate. "