New touchscreen housings molded in ASA + PC-FR or UV resistant ABS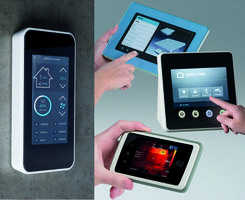 Summary of the press release:
Smart wall panel, portable slim case, PROTEC square plan control center and multi-functional interface terminal are available
Accessories include IP gaskets, non-slip rubber feet and self-tapping screws for mounting PCBs and assemblies
Applications include offices, gateways, automation, data systems engineering, and wireless communications
---
Original press release:
OKW meets growing demand for touchscreen enclosures
OKW reports growing demand for its advanced touchscreen enclosures: wall-mounted SMART-PANEL, portable low-profile SLIM-CASE, PROTEC square control center and multifunctional INTERFACE-TERMINAL.
Collectively, all four cover a wide range of applications including IIoT / IoT, Industry 4.0, smart factory, measurement and control, medical and laboratory technology, offices, gateways, automation, data systems engineering and wireless communications.
The new SMART-PANEL houses edge-to-edge touch screens for building services, electrical installations, smart home and security systems. These elegant and discreet enclosures can be mounted on standard recessed hollow wall boxes. Without visible fixing screws, they fit perfectly into modern residential, commercial and industrial environments.
The new ergonomic SLIM-CASE (IP 54/65) can accommodate touch screens up to 4 "(10 cm) for a wide range of environmental technology and high mobility safety engineering applications. The contoured sides of the SLIM-CASE, beveled back panel and optional soft-touch middle ring make it comfortable to hold and use.The virtually frameless design houses low-profile components and assemblies in a compact space.
PROTEC (optional IP 65) has an ergonomic angled front panel and is available in three sizes, all of which can be customized to accommodate a touchscreen. This modern case can be used on a table or mounted on the wall to suit the specific application. Three versions are available with recessed, closed or extended rear part for connections and cables.
Modular INTERFACE-TERMINAL (IP 54 optional) can be ordered in a range of configurations: mobile portable units; table or wall units with slanted fronts; recessed units to be recessed into walls or facades for a harmonious integration in visually sensitive places such as historic buildings. An accessory glass screen can be specified for touch screens (6.4 ", 8.4" or 10.4 ").
The housings are molded in UV resistant ASA + PC-FR (UL 94 V-0) or ABS (UL 94 HB). They are all off-white (RAL 9002) as standard except SMART-PANEL which is traffic white (RAL 9016).
Accessories include glass panels for touch screens, IP gaskets, non-slip rubber feet and self-tapping screws for mounting PCBs and assemblies.
OKW can supply all enclosures fully customized. Services include CNC machining, printing, laser marking, custom colors, decorative sheets, RFI / EMI shielding and installation / assembly.
Visit the OKW website for more information: https://www.okwenclosures.com/en/Products/Plastic-enclosures.htm
Contact:
Sean bailey
Email: [email protected]
Contact this company Download the technical sheet
More architectural and civil engineering products