Offices completed in just 45 hours using 3D printing technology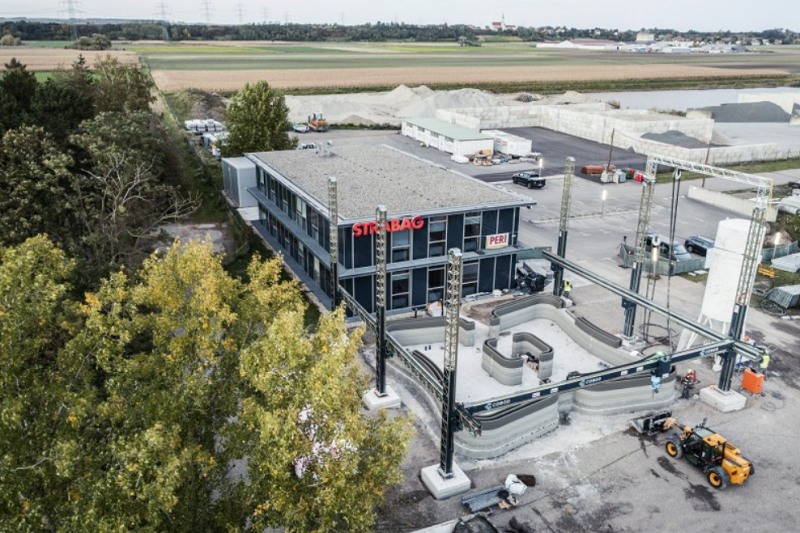 The construction technology group STRABAG, in collaboration with PERI, manufacturer of formwork and scaffolding and pioneer in 3D concrete printing, is building an office building of around 125 m² next to its asphalt plant in Hausleiten.
Special dry mortar for construction 3D printing project, with long workability and good pumpability, is supplied by Lafarge.
"3D concrete printing gives the construction industry a significant boost in innovation and represents an exciting addition to the range of available construction methods", explained Klemens Haselsteiner, member of the board of directors of STRABAG responsible digitization and innovation.
"With this practical test, we want to further develop the 3D concrete printing technology with our partners PERI and Lafarge. The joint planning and design of Hausleiten have already given important perspectives for the future.
Photo: STRABAG / PERI
Thomas Imbacher, Director of Innovation and Marketing at PERI AG, said the emerging technology of concrete 3D printing has enormous potential.
"A little less than a year ago, we printed the first residential building in Germany using a BOD2 printer from our Danish partner COBOD," he continued. "Since then, the PERI team has successfully completed several additional printing projects. Together with our partners STRABAG and Lafarge, we are now bringing this new form of construction to Austria and are delighted to realize the first 3D printed office building in Hausleiten.
Construction 3D printing offers several advantages where its use makes technical and financial sense. The COBOD BOD2 gantry printer used at Hausleiten can print concrete at up to one meter per second, which significantly reduces construction time. The shell of the building in Hausleiten can be completed in about 45 hours of pure printing time. Construction 3D printing also offers much more design freedom compared to conventional concrete construction, with the ability to easily create architecturally complex rounded designs.
"3D printed buildings will help establish a new digital and environmentally advanced language for concrete," said Berthold Kren, CEO of Lafarge Austria.
"The intelligent material convinces in its application and offers a high degree of architectural freedom in the design. This allows us to build more with less.
PERI uses the COBOD BOD2 gantry printer for the construction printing project in Hausleiten. This printing technology comes from the Danish manufacturer COBOD, in which PERI acquired a significant stake in 2018.
The print head moves in three axes on a solidly installed metal frame. This allows the printer to be moved to any position in the structure being built, requiring only one calibration. The 3D printer applies the printing material (dry mortar) in layers to create the walls. Laying two parallel printing paths creates a cavity wall which is then backfilled with cast-in-place concrete as a supporting system. To create the exterior wall, a second cavity is formed by printing another mortar path further outside the previous wall and filling it with thermal insulation material. Printed walls can be thought of as a sort of lost formwork system.
During the printing process, the printer already takes into account water, electricity and other utility lines and connections that will be installed later. The BOD2 is certified in such a way that work can also be performed in the print room during the printing process. This makes it easy to integrate manual work, such as laying pipes and fittings, into the printing process.
Printing material is stored in silos. The ready-to-use dry mortar is then pumped directly into the printhead during the printing process after adding water. The Tector Print brand material used for the printing of the office building in Hausleiten was developed by Holcim and is suitable for the special requirements of 3D concrete printing.