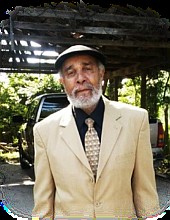 JC was born July 7, 1939 in Strong, Arkansas, to Charlie and Carrie Lee Green Williams. He accepted Christ from an early age. He attended school at Gardner Junior High. He worked for Hurley Printing for 25 years and for El Dorado Printing for 17 years.
JC married his sweetheart, Ann Williams, on August 9, 1964. From this union were born three beautiful daughters, Jesseca, Eliza and Kelee.
JC was a very active and cunning man. His hobbies were spending time with his daughters, grandchildren and wife. He mowed gardens, waxed cars, worked on houses and a number of other hobbies. He enjoyed playing dominoes with John C. Hall, his stepfather. He roasted peanuts and was known for his long walks. He was nicknamed "The Walking Man".
JC was a loving man with an incredibly kind heart and never met a stranger. He firmly believed in Christ and lived his life as such.
JC passed from life into the arms of his Savior on July 10, 2021. He was predeceased by his parents and grandsons Desmond Williams and Coriando Leichman, Jr., and a brother, Charlie Williams.
JC's memories are forever cherished by his wife of 57 years, Ann Williams; daughters Jesseca Williams, Eliza Williams and Kelee Williams; six grandchildren, Cameron Williams, Tahjne Williams, Ayana Williams, Roman Smith, Jr., Kalee Smith & Drayth Leichmon; three brothers, Johnny B. Williams, Ervin Williams (Jackie) and Lavon Williams (Marie), as well as a host of relatives and friends who will be sorely missed.
The funeral for JC Williams 82, of El Dorado, AR, will be on Saturday July 17, 2021 at 11:00 a.m. The service will take place at the El Dorado Municipal Auditorium in El Dorado, AR. Public tours will take place on Friday July 16, 2021 from 1:00 p.m. to 5:00 p.m. Professional care entrusted to Andrews Funeral Home of El Dorado. Mask required