Habitat for Humanity builds its first 3D printed house in Tempe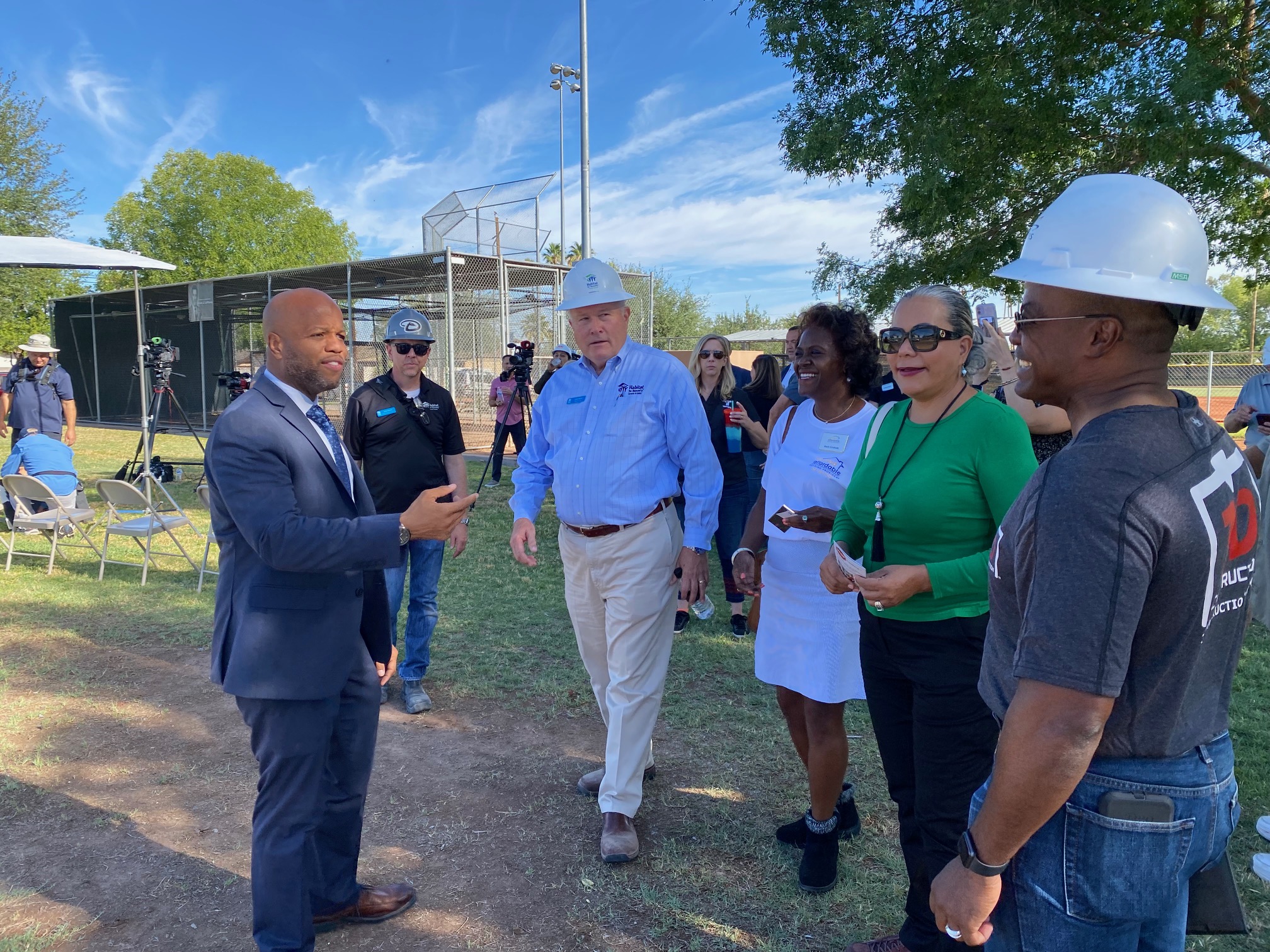 The first 3D printed house built for Habitat for Humanity is underway in Tempe. This morning, Habitat for Humanity President and CEO Jason Barlow, Tempe Mayor Corey Woods, PERI USA CEO Strydom Groenwald, 3D Construction Director Paul McAllister and Team Director and Leader Project for Candelaria Design Damon Wake gathered at the home site for a press conference that also included members of the surrounding community.
ASU graduates and directors of Phoenix-based 3D Construction, Clarence McAllister and Paul Mooney, Jr. approached Barlow 19 months ago about new and innovative housing solutions. With a lot of planning, support and the inclusion of partnerships, the project to launch a 3D printed house as part of the non-profit Habitat for Humanity program was implemented.
---
READ ALSO: 5 Arizona real estate market forecasts for 2021
---
The idea behind a 3D printed house is to reduce construction and labor costs and speed up the time it takes to build the house. A concrete mix also containing polymers and other materials is put in place by a massive robotic arm structure that extrudes the mix layer by layer to create the walls with concrete pillars. About 70% of the house construction will be 3D printed and the remaining 30% will be built in the traditional way.
The lack of affordable housing is at an all time high, especially in Phoenix, currently the hottest and fastest growing county housing market in the country. Together, Habitat and the City of Tempe have explored ways to solve affordable housing issues, and 3D printing is an innovative, practical and scalable solution.
"The City of Tempe and Habitat have worked together for over 30 years to increase the supply of affordable housing for individuals and families in our city," said Woods. "Right now the city and Habitat have plans on the drawing board for 16 new homes, including this 3D printed home. These homes are built on land purchased by the city to provide more affordable housing and then donated to Habitat.
When complete, the custom single-family home will have three bedrooms, two bathrooms and over 1,600 square feet of living space. Construction of the 3D printed single family home has been underway for 18 months and is being built on land purchased from the city of Tempe. This lot will soon also include three other Habitat houses.
"Today is a big day for all of the people who made this monumental project a reality," said Groenwald. "We believe that many years from now people will think back and remember June 9, 2021 as the day 3D building printing, a whole new way of building a house, came to America."
"We have a family selection committee and a family services team," said Dusty Parsons, director of marketing and media for Habitat for Humanity Central Arizona. "Families apply online or by phone, and then they go through a whole process with our Family Selection Committee. Families have three criteria that must be met to be considered for a home – a need for affordable housing, the ability to repay an interest-free loan, and a willingness to put 400 hours of sweat capital into building the home.
The family that will move into the 3D printed house in the fall of 2021 will likely spend their 400 hours building the other three Habitat houses on their street. For more information about the house, visit www.habitatcaz.org/3D.