The world's first 3D printed composite electric scooter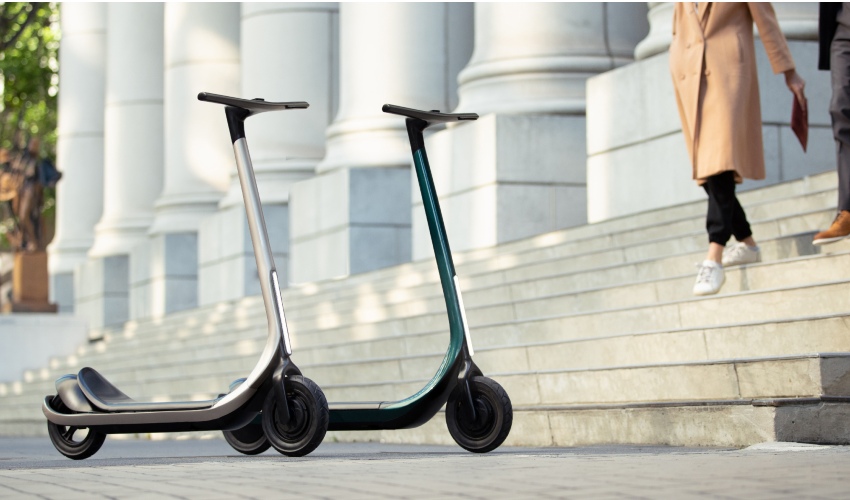 Electric scooters have been a controversial topic since their introduction in major cities. Opinions are divided, especially when it comes to sustainability. This is because electric scooters can be environmentally friendly – especially if they replace car trips or other forms of public transportation. However, a study by the Federal Environment Agency shows that electric scooters are mainly used to replace bicycles or for walking, which in turn worsens the environmental balance. For anyone who isn't big fan of e-scooters – whether it's because of the ongoing controversy, the metropolitan system, or other drawbacks – there is now a reason to reconsider their attitude: the first e- 3d printed scooter.
Yesterday, Scotsman, a Silicon Valley scooter brand, unveiled the world's first 3D printed electric scooter made entirely from thermoplastic carbon fiber composites. In fact, the unibody construction is produced in a single 3D printing process, eliminating the need for glued parts or joints, which in turn leads to greater stability. To be precise, the new e-scooter comes in three different models: the Scotsman 500, Scotsman 1000 and Scotsman 2000. These differ in terms of top speed, power and price, but they are the same. special properties that set apart the normal high-end scooters.
Properties of 3D printed e-scooters
One of the biggest differences with conventional electric scooters is of course the production. Scotsman standing scooters are made of 3D printed thermoplastic materials, giving them the perfect blend of durability and agility: they are 61 times stronger than steel and at the same time very light. This makes them perfect for commuters who need a rugged, impact-resistant means of transportation in road traffic that should be easy to carry or transport. Josh Morenstein, designer, winner and creative force at Scotsman confirms: "With the Scotsman, we wanted to address city commuters as well as electromobility enthusiasts and offer them the electric scooter as a high-performance alternative in commuter traffic and in everyday life. Through 3D printing from a continuous carbon fiber composite material, we are able to implement designs that would not have been possible with other materials and manufacturing techniques. "
The advanced 3D printing process also opens up new possibilities for customization. Thus, not only the frame, but also the handle and the table top can be adapted to the height, weight and length of the arm or legs. This is especially beneficial for tall and short people, as Scotsman electric scooters can be designed for people between 137cm and 229cm tall. In addition, the electric scooter can also be customized in terms of color and accessories.
In addition, the 3D printed e-scooter is also equipped with other awesome functions. On the one hand, every owner of a Scotsman can install the companion app, which has built-in GPS, auto key, traffic information and more. On the other hand, 3D printed e-scooters have a unique power system architecture with two separate battery compartments. Batteries, also known as PowerPacks, can be removed quickly and easily and can even be used as a power bank to charge other electrical devices such as computers. Scotsman offers two different versions: the Scotsman PowerPack with 500 Wh of energy and the Performance PowerPack with 550 Wh, which is included in the delivery of the Scotsman 200 model. You can also choose between three different modes: Eco, Sport and Performance.
Scotsman is currently offering limited new products at a reduced price for early birds. After these sales, the company offers a special price for Indiegogo members, which is an international crowdfunding website. Once the campaign is over, the 3D printed e-scooters will be available at retail price. Delivery is expected to begin in December 2021. More information is available on the official website website .
Would you buy 3D printed electronic scooters? Let us know in a comment below or on our Facebook, Twitter and LinkedIn pages! Sign up for our free weekly newsletter here, the latest 3D printing news straight to your inbox!
* Cover photo credits: Scotsman